Brisbane skips a beat as Skip Bin companies await details of the waste levy.
| | | | |
| --- | --- | --- | --- |
| Authored By: | Steve Shergold | Published: | 2011-11-14 15:00:54.0 |
| Originally Published By: | Bins Sksip Waste and Recycling | | |
Brisbane skip bin companies are all awaiting the key information they need to be prepared for the Queensland waste levy implementation on the 1st December 2011. Skip Bin companies across Brisbane and even Queensland are all wondering what is going to happen on the 1st December 2011 when the Queensland government introduces its long awaited waste levies. The waste levies were original slated for the 1st of Joly 2011 but there has already been some delays that now make the implementation date likely to be at least the 1st December 2011.
However there seems to be some sand in the pipeline. Even though the Government has set its waste landfil levy these costs have not been incorporated in the landfill prices so many Skip Bin companies are unsure about how the landfill levy is likely to affect them or there prices. So at probably the most critical time of the year for skip bin companies everything is up in the air and hence there will be uncertainity for the consumerable about how much they will have to pay for skip bins in Brisbane after the 1st od December 2011.
The Goverment levy has been set at $30 a tonne, and the landfills need to incorporate this into their systems so it can be collect properly and accounted for. Experience from else where around the country would lead you to beleive that they gates prices at the tips will only incorporate the new levy some time after the beginning of December as the dust settles and the cost of disposing of the waste rolls through to comsumer prices.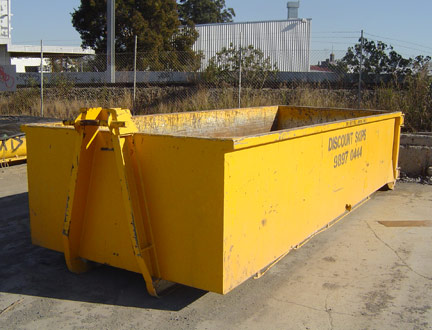 In the mean time, now is the time to order you skip bin for the Christmas "spring" clean. Order the skip bin well before the beginning of December to avoid altogether. Aim to have you bin collected before the 1st December so you know you will avoid having to pay extra that will go to the government. Get the larger size skip bin now and save even more on getting rid of the waste.
Rubbish will never be this chap again...