Cheap Skip Bins Adelaide All Skip Sizes Available Including Mini Skip Bins Adelaide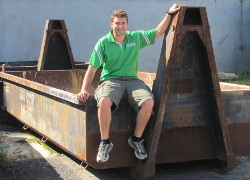 Looking for skip bins Adelaide? As an Adelaide-based skip bins company, we provide reliable and friendly service bins for hire to the outer north, south, east, and the Adelaide hills. Whether you're a home or shop owner, a landscaper, builder, carpenter, we are fully equipped to serve all our customers to provide them with a viable waste management solution every time.
We are the solution to all your waste disposal needs. Bins Skips Waste and Recycling understands the need for different skip bin sizes in Adelaide to suit a variety of jobs, including small or large construction projects and home renovations. Choose from our vast range of different skip bins sizes, starting at 2 cubic metre roll and 4 cubic metre roll to 6 cubic metres roll, and the larger sizes are 8 and onwards. With competitive prices and exceptional customer service, we are the skip bins Adelaide Southern Suburbs favourite go-to place for waste management needs.
Convenient Rubbish Removal in Adelaide, Hire a Skip Bin Today
If you're looking for rubbish skip hire, we are one of the easiest options available to you. We offer cheap waste removal Adelaide solutions to customers in many locations with our no-fuss approach that does all the legwork when it comes to sorting out your specific needs. You will be pleasantly surprised at how easy it is to find yourself the right perfect skip bins.
Here at Bins Skips Waste and Recycling, we are dedicated to helping our customers with their rubbish removal needs, providing the best waste management and skip bin hire Adelaide has to offer. Please get in touch with us via call, email, chat or visit our easy-to-navigate website to get answers to your questions.
The Top Adelaide Skip Bin Hire Website For Your Green Waste Needs
Are you looking for reliable skip bin hire? Get your skip bins delivered to your location today. Bins Skips Waste and Recycling is the most trusted provider of skip bin hire in Adelaide, South Australia. We efficiently cover all areas of the Metropolitan including the north and south areas. Rest assured, we offer the highest quality skip bin hire Adelaide has to offer, transported directly to your location within the same day. Our team of professionals will give a friendly, helpful approach to general waste and rubbish removal. Whatever your green waste skip bins Adelaide needs, we will try our best to accommodate it.
All In One Solution For Cheap Skip Bins Adelaide
Waste management can be complicated, but that doesn't mean you have to let it stress you out. We've got the right solution for your long-term commercial and industrial needs - our bins are specially designed with sustainability in mind so they're perfect for a wide range of settings!
We have the most cost-effective skip bin prices Adelaide residents and commercial customers prefer. Whether you will use them alone or combine them with other solutions, these sustainable skip bins offer plenty of advantages including efficiency when accompanied by wheels and locks on each bin model, improved recycling abilities due to their unlimited variety; and peace of mind from knowing that you are getting the highest quality skip bins at a reasonable price tag. What's more? Our expert team is always happy to offer both short term and long term hire, all with prompt delivery. Call us today for a free estimate.
Versatile Mini Skips Adelaide House Movers Love To Use
From commercial, industrial, to residential purposes, we're here to help every house movers in Adelaide, Australia - so why not get in touch today? With Bins Skips Waste and Recycling, you can find the perfect bin for all your waste removal needs. Our bins are designed to carry general domestic/commercial waste, green waste or building and landscaping. They come in a range of cubic metres so no matter how big, small or tough the job is, we have one that's right for you. You can get reliable skip bin hire services, clean, and roomier skip bins Adelaide has without burning a hole in your pocket.
Trusted Rubbish Removal Adelaide, Reliable & Convenient Service
Looking for a rubbish removal service you can rely on? Our rubbish skips Adelaide solutions offer a customised way that is both efficient, reliable and cost-effective. Whether it's the mixed waste you want to remove from your household or office, you can depend on our speciality rubbish removal services to get the job done efficiently and timely. We also offer same-day delivery throughout Adelaide's metropolitan area for your utmost convenience.
Cheap Skip Bins Adelaide Residents Trust
If you're ready to clear up your property but don't know where to start, then we have the cheap skip bins in Adelaide for you! You can get rid of all waste types including tree trimmings, branches and bushes with the available range of sizes for mini skips Adelaide residents need. So if you're looking for skip hire Adelaide residents love and trust, then make us your first port of call. You can give your space more room than it ever had before so make sure to contact us today about how we can help. We efficiently cover all areas of metropolitan Adelaide, including outer surrounding areas.
Find Out More About Our Adelaide Skip Hire Comparison Service So You Can Secure The Best Prices
Looking for a price comparison between skip bin hire Adelaide and other services? You can visit our website and fill up the information needed to get started. Simply type the suburb where you're located at and we will provide you with a list of skip bin hire options that is available on every type of waste required. Click on the volume of waste you need and we will come up with a list that closely matches your estimated volume. Contact us for a free quote or call us today online. We have the best price in the market.
Skip Bins Adelaide Faqs
How much does it cost to hire a skip bin in Adelaide?
We are the cheapest skip bin hire Adelaide company. Our budget skips in Adelaide come in a variety of sizes from 2 to 6 cubic metre roll. They are an inexpensive and secure way to dispose of rubbish waste, but there are many different factors that affect the cost. The cost to hire a skip bin in Adelaide is affected by the size, type of bins, the distance between customer's place and dumpsite as well as period hired for.
How much does Adelaide mini skip bin hire cost?
Get prices instantly on your mini skip hire in Adelaide when you visit our online website for a free consultation service. If you have a huge pile of rubbish and need something more substantial, don't fret. We've got the perfect solution for your concern with our mobile skips in Adelaide! Our mini skips Adelaide prices are determined by the size and the period of time you rent it for. Contact us today to learn how we can help you hire one skip bins in southern Adelaide.
What is the range of skip bin sizes I can hire in Adelaide?
We have a variety of cheap skip hire Adelaide offers depending on your rubbish disposal needs. Our smallest mini skips start at 2 cubic metre roll, 4 cubic metres roll, and 6 cubic metres roll. Our cheap skips in Adelaide are perfectly suited for general waste, clean fill, hard fill, and green waste services. Contact us today for more information.