Skip Hire Hobart Order Online Skip Bins to Newtown, Lenah Valley & all points of Hobart

Skip Bins Hobart deliver to Newtown, Lenah Valley, West, South & North Hobart
From New Town to Mount Nelson and Lenah Valley to Glebe and all Hobart suburbs between you can book Hobart skip here at the Bins Skips Waste and Recycling website.

With more than a dozen skip bin suppliers delivering to Hobart we have an extensive range of skip bins and hook-lift bins available for any job you have waste disposal needs for. Among the dozen service providers there are 6 or more sizes of skip bin or hook-lift bin available to choose from. These bins can be used for any sort of 5 different types of waste for disposal or recycling.
Amoung our service parters we have the capabilitity to deliver either Marell skips bins as shown in the picture top left or hook-lift binsas per picture right above. Skip bins in Hobart may be hired online through our site. We aim to offer you the greatest choice of skip hire in Hobart. These services are provided by partner who we have grown to trust as they excel at delivering service. As we focus on positive consumer feedback, you know our partners in Hobart providing skip bin hire services are reputable by the testimonies other customer have left. So no matter what you need a skip for, a garage clean out or a renovation this is the place to find your skip bin.
Frequent Questions about skip bin hire Hobart
What waste types can be placed in Hobart skip bins?
Most rubbish and waste types can be placed in the Hobart skip bins for rubbish removal. To make it easy to pick the right sort of the skip we have categorise them into different waste categories:
Heavy general Waste Skip Bins can be used for a mixture of heavier wastes like bricks, concrete, soil, building rubble which all weigh in excess of 1 tonne per cubic metre. It can also contain light general rubbish and waste as well

Light general Waste skip bins is expected to weigh about 150 kg per cubic metre. Light general waste skips can contain stuff like white goods (washing machines and fridges etc), furniture, rubbish from moving house, rubbish from deceased estates, house-hold items

Green waste skip bins for waste materials from cleaning up the garden or yard like grass clipping, bush and tree trimmings, shrubs and other plants

Brick and concrete skip bins used to recycle pavers, blocks, roof tiles etc

Clean-fill skip bins for soil, dirt and clay that have been recently excavated and free from man made contaminants.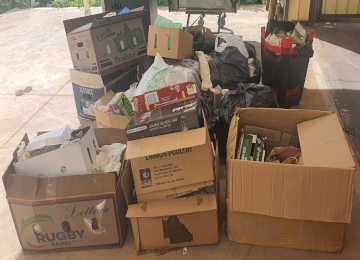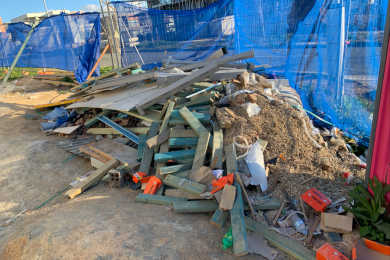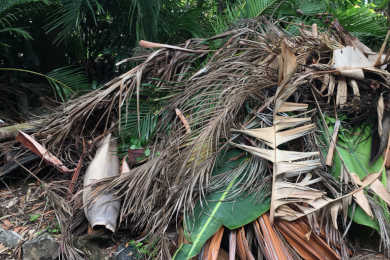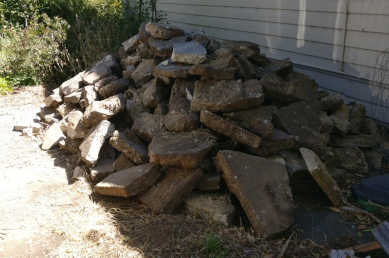 What is the price of skip bins in Hobart?
The price of the most popular skip bin size (which is a 3 cubic metre skip) is $240 with a weght allowance of 0.35 tonne.
Not everyone is looking for the cheapest skip bin possible because that would mean everyone is searching for a 2m green waste bin. The price of skip bins is dependent on the size of the skip bin and the types of waste to be placed in it. To help you find the right skip bin for the right price we have create the panel to the top right to "Get Prices Instantly". All you do is enter the suburb where you want the bin delivered, the quantity of waste you need to get rid of and the type of waste you have. Hit the button and you will receive a shortlist of potential skip bin service. From the short-list you see that cubic metre skip bins increase in price as the size increases. The quoted prices include GST, drop-off, good service and the specified tip fees for the given weight allowance. Send a free quote to any email address by clicking on the button in the detail screen.
What size skip bins are available available for skip bin hire Hobart?
There is a good range of skip bin sizes available in Hobart and surrounding suburbs. These skip bins start with a 2 cubic metre skip bin. A cubic metre is about same volume as 3 wheelie bins. These smaller skip bins are good for smaller renovations like bathroom or laundry renos. The smaller bins that are 2 to 4 cubic metre in size and are often called mini skip bins.
Large skip bins range in size from 6 to 12 cubic metres .
For bigger jobs we have hook bins that can be up to 30 cubic metres. These large bins can only be used for light wastes like general light or green waste.
How soon can a skip bin be delivered to Hobart suburbs?
For the majority of the time it is possible to get a skip bin delivered as soon as you like (within reason). Same day delivery is possible if you book before 9:30 am.