Skip Bin Hire Across Australia
Skip bin hire services are used world-wide to transport of large volumes of waste to near-by landfill or other waste disposal sites. Hiring a skip bin when you are doing a renovation, cleanup, moving house, construction or landscaping is usually a simple process of finding someone to do the job for you (hopefully us). While this is definitely the case you should consider some of the things included in this page to help make sure you get the right skip bin hire service because the same bin is not necessarily the right service.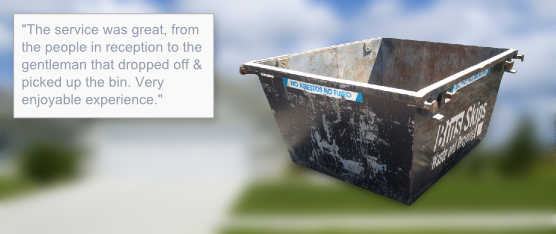 Wastes That Can Go In a Bin
There are a few things that should not be put in skips unless you have disclosed it first. Anything which is putrescible (can rot e.g. food) because the bin can't be left onsite for any longer than it is needed and because the bin will need to be thoroughly washed out after the skip hire (nobody wants a stinky bin!). Any type of hazardous material should not be put in skips except where the operator is licensed to carry the material. This is the case with asbestos skip hire services where the operator must be licensed to carry asbestos and the service usually includes plastic wrap and tape to seal the asbestos material in the bin.
Some items such as mattresses and tyres incur additional fees because of additional processing required for their disposal. Tyres in particular require processing (shredding) in many areas and are considered a controlled waste in some states.
How Much Can I Get Rid Of In a Skip
Skips come in a range of shapes and bin sizes which varies their volume and weight bearing capacity as well as the load that can be carried by a truck. You should be careful not to overfill (place waste above the rim) the rubbish bin as the truck cannot legally carry this unsafe load. As long as you order a service for the correct waste type you won't have any issues.

How Long Can I Hire the Bin For
A rubbish skip can be on-site for as little as a few hours but generally speaking skip bin services will include between 3 and 7 days hire. If you require the waste bins to be onsite for longer than the included period a fee may be required per day or week depending on the operator. While long term hires of skip bins are possible it is not normally done due to the cost of keeping them onsite.
How Much Does It Cost To Hire a Skip
Prices of skip bin hire varies greatly between states in Australia because of Waste Levies imposed by State Governments, in-fact it has become common place in NSW to transport waste to QLD due to the high levy. Our website can be used to find out exact cost of hiring a skip bin once you are ready. You will be able to get pricing on skip bin services of a specific skip size and for different bin types.
Where Can a Skip Be Placed
When considering where a skip bin may be placed so it is convenient for you to put the rubbish in it there are a few things to consider. The type of truck delivering skips will also affect what areas can be accessed safely. It is best to try to get skip bins placed on private property as this is not subject to council laws but sometimes there is no choice but to use the roadway or nature strip. Depending on your local council you may need to pay fees and/or lodge a form seeking permission.
Types of Trucks and Skip Bins to Match
There are three prominent types of trucks used which are the marrel, Hook-lift and crane arm types each having their own advantages and disadvantages. Generally speaking marrel trucks deliver small to medium sized skip bins (2 - 12 cubic meters) and deliver directly off the back of the truck using an extendable bar with chains attached. Hook-lift (aka RORO) trucks deliver medium to large skip bins (8 - 30 cubic meter skips) and similarly deliver the bins off the back of the truck where one end of the bin has rollers and the other is lifted using a hook system. Finally crane arm trucks have an articulated crane which can be used to lift bins over fences or walls however it can only work with small bins (2 - 4 cubic meters).
Notice Needed To Deliver/Pick-Up Skips
Usually it is best to order a skip two or more days before you plan for it to be on site so that you can get it delivered before it is needed and not be waiting on its delivery.