Skip Bins Brisbane | Rubbish Removal Forest Lake to Wynnum Skip Hire
Skip Bin Hire Brisbane where you can Find and Book Skips Bins Online
Skip Bins in Brisbane are as important to us as they are to you. That is why we offer competitively priced skip hire Brisbane wide, in all metropolitian suburbs including Forest Lake, Sunnybank Hills, Calamvale, Bracken Ridge and a lot more. So whether you are in Runcorn, Ashgrove, Innala, Indooroopilly or New Farm (next to Brissy City) you will find it easy to find a great choice.
Skip bins in Brisbane may be hired online through our website. At our website we offer you a fantastic selection of skip bins in Brisbane for delivery to both the northside and southside. These services are provided by partner service providers and because we focus on positive consumer feedback, you know our services are reputable. This means that no matter what you need in terms of skip hire in Brisbane, whether for a garage clean out or a renovation, Bins Skips' is the place to find your skip hire Brisbane. It's easy to book and pay for hiring a skip bin in Brisbane on our website, it takes just 4 easy steps. So when you need a skip, Bins Skips' is your one stop shop for all your skip hiring and skip bins Brisbane northside and southside needs.
Brisbane Skip Bins are Available in many Sizes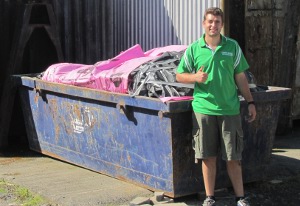 We have an exceptional range of skip bin hire services available for our customers across the Brisbane metropolitan area and South East Queensland. Our range of bins is extensive, and as the Queensland government intorduce waste levies again the choice of different waste types will provides homes and businesses with and even greater choice of services. Our bin sizes range from small two cubic meter mini-skips up to 40 cubic meter hook-lift bins delivered on semi trailers. And between this different size bins we have plentry of choice in both size and style (or type) of bins. We have many depots that deliver Marrell skip bins that are loaded on and off the turcks using chains (to each corner of the skip bin) and dual rotating hydraulic arms that lift the bins on and off the back of the truck. We also have a number of depots that provide services with hook lift trucks. Below are some photos of both Marrell Skip Bins Marrell Skip Bin Trucks and also Hook-Lift trucks and their bins.
Many of our bins come equipped with doors or ramps for easy access when loading the bins with your waste. Call today and our staff will help you find out more and get the best skip bin to hire for your job.
Service Area for Skip Bins Brisbane
Brisbane skip Bins are delivered to all suburbs of the Brisbane Local Government Area (other than those out on Moorton Island). Brisbane skip bins provides services in over 170 suburbs. Here is the list of the top 10 suburbs for bins Brisbane:
| | | | |
| --- | --- | --- | --- |
| Suburb | Postcode | Suburb | Postcode |
| Forest Lake | 4078 | Sunnybank Hills | 4109 |
| Calamvale | 4116 | Bracken Ridge | 4017 |
| The Gap | 4061 | Carindale | 4152 |
| Eight Mile Plains | 4113 | Inala | 4077 |
| Runcorn | 4113 | Ashgrove | 4060 |
Frequently Asked Questions for Brisbane Skip Hire
How much are skip bins to hire in Brisbane
$230 is our best price for a 2 cubic meter bin in Brisbane on a 7-day hire. Of course skip bin prices vary depending on the location within the Brisbane metropolitan area (controlled by the Brisbane City Council) and also by size of be and type of waste. Bigger bins are more expensive. Lighter wastes, or those that can be recycle are lower in price. Rubbish removal is very competitive in Brisbane so we have competitive prices.
How much is a skip bin to hire for Green waste in Brisbane
Green Waste Bins are priced from $195 for a 2.0m³ Skip Bin Delivered to Brisbane. The lower price reflects the lower cost of recycling green waste which is used to produce mulch and other similar products.
What can you put in a skip bin in Brisbane?
Skip bin hire is all about choice. So we pride ourselves on having a wide choice of waste types available in for hire in Brisbane. You can put pretty much anything a in a skip bin for the disposal of rubbish, waste and /or recycling. The most common type of waste in bins Brisbane would be General Light waste that is used for household rubbish and items of furniture. Most noticeably we have asbestos skips available across Brisbane for hire.
How Much is a 3m skip bin in Brisbane?
$285 is the best price that we have a General light waste skip bin that is 3 cubic meters and delivered in Brisbane. Cheap skip bins Brisbane seem like a thing of the past now that the state government have introduced waste levies (taxes). Brisbane skip bin hire is now moderately priced (much lower than Sydney, Melbourne and other metropolitan areas.
What Size are skip bins in Brisbane?
We have many small, medium and large skip bins and commercial hook-lift bins available at affordable prices. Brisbane skip bin sizes start at 2 cubic meter and rise from there. At the large end of the scale we have Brisbane Skip bins as big as 30 cubic meters. Inbetween there is a range of skip bins including 3.0m³, 4.0m³, 6.0m³, 8.0m³ and 10.0m³ bins skip.
How soon can Brisbane Skip Bins be delivered?
For orders placed before 10:00 am it is often possible to provide same day delivery. As we deliver throughout Brisbane same day delivery can not be guaranteed past this time although we we will always try to provide a reliable, fast and responsive service to our customers. Ask our friendly staff and they will endeavor to help you however large or small your job is. Bin hire in brisbane is in high demand and many Brisbane skip bin hire companies make frequent trips to the city. It is worth remembering though that the traffic at peak hours is very heavy and not best suited to skip bin hire trucks so it is best to avoid trying to get bins delivered during peak hours.
Permits for Brisbane Skip Bins
Brisbane City Council only requires a permit to place a Skip Bin on a footway (or nature strip) if your answer is yes to any of the following three questions:
Will the Skips be on the footway for more than 48 hours?
Will the Skips fully obstruct the footway and/or require pedestrians to walk on the road or take an alternative path?
Will the Skip bin be on the footway or on a main road or within the CBD?
If you answer yes to any of these questions then you will need to get a skip bin permit from Brisbane City Council. Brisbane City Council supports work on Council property such as roads and footways when this is required as part of construction work or business operations like the placement of a skip bin on the footpath for construction waste removal. Council regulates these activities to ensure public health and safety and issues permits to regulate these activities. Council considers placing a skip bin on their property as a "Deposit equipment and materials on the footway". Brissy City will tell you more about bin hire in Brisbane.