Skip Bins Perth - Skip Bin Hire Perth in Any Metro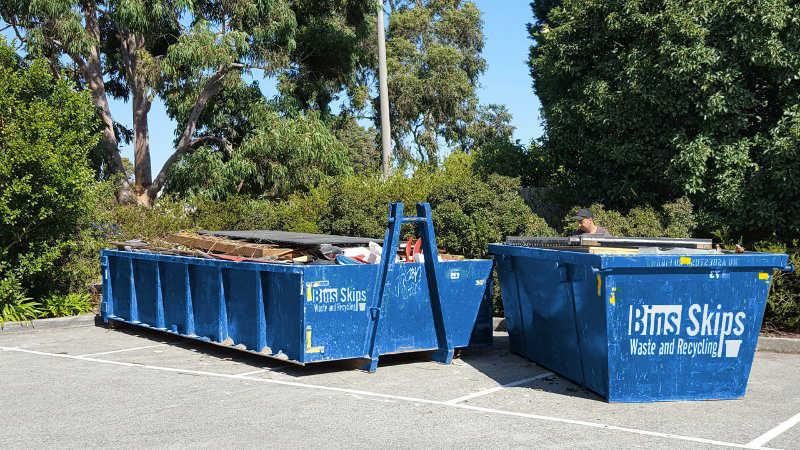 Using Skip Bin Hire Perth for Rubbish Removal?
We have 10-plus years of experience of helping customers like you with skip bin hire in Perth for rubbish removal of all sorts. Yes, we know all about skip bin hire services and we want to share that expertise with you. To help you make the best choice when choosing a skip bin for your next rubbish removal activity. We work with lots of waste disposal depots across the whole Perth Metropolitan area to provide reliable skip bin hire.
Skip bin hire Perth is different to other locations for a number of geographical reasons. The Swan river splits the city, north/south making delivery of skip bins in Perth a little more complex. Also Perth has many, many Local Government Areas (Councils) who having differing policies for waste management, bulk waste disposal and the use of skip bins. Many of the councils in central Perth, or near the coast outsource their waste management to other locations. This results in waste management facilities being on the edge of the metropolitan area requiring travel for the actual waste disposal. Delivery of skip bin hire services appear to be as simple as dropping off a bin. Underlying that skip bin hire, a lot of complex scheduling and logistics is required, which is why it is called waste management.
The essence of a good skip bin hire service is choice. This means a choice of many waste management items, like different sized skip bins, like different sized trucks for access, load carrying capacity, different disposal options for different waste types. And all this while competitively priced.
When do people opt for Skip Bins Perth?
Have you found yourself with a large amount of waste or rubbish to handle and dispose of? You are a candidate for using skip bins in Perth. You could take the rubbish to the tip yourself (can be time consuming), you could hire someone else to load your rubbish into their truck or you can hire a bin that you load (that is often the most affordable choice when you have lots of "bulk waste") or you might have time to wait for a Perth council bulk waste service.
Perth Skip bins, both north or south of the river provide a cost effective way to get rid of a lot of waste. and get your waste and rubbish removal needs fully met.
Welcome to Bins Skips Waste and Recycling - We are an Australian owned and operated company with more that 10 years experience delivering excellence in the waste management industry. Our skip hire Perth south and north of the river are easily the best services available in the Perth metro area.
We provide skip bin hire in Perth's northern and southern suburbs and are experts in helping our valued customers get the right waste removal solution with a high degree of punctuality, efficiency and friendliness irrespective of their requirements big or small. Give us a call to discuss your skip bin hire delivery.
We Have a Perth Skip Bin Sizes to Suite Your Job
Our skip bins Perth WA come in many different shapes, sizes, types and can be delivered by a variety of distinctive of trucks to handle different situations. Some trucks employ a Marrel system which levers the container off the back of the vehicle and directly into position whereas others use a RORO system (Roll-On Roll-Off) where the skip bin is levered off the truck with a hydraulic arm and then maneuvered on rollers at its rear. There are also trucks which use a crane to deliver (potentially over walls and other obstacles) but which can only be used with small mini-skips (two or three cubic meters). The varieties of delivery methods notwithstanding the skips themselves are infinitely diverse with shapes and styles to meet differing requirements. Because we work with multiple partners we can offer you an unequaled variety of services.
Our range of skip bin sizes include:
2m3 - 1.2m W x 2.3m L x 0.9m H
3m3 - 1.4m W x 2.3m L x 0.9m H
4m3 - 1.8m W x 2.3m L x 1.2m H - Most Popular
5m3 - 1.8m W x 2.3m L x 1.25m H
6m3 - 1.8m W x 3.0m L x 1.2m H or 1.4m W x 3.2m L x 1.5m H
7m3 - 1.8m W x 3.6m L x 1.2m H
8m3 - 1.7m W x 3.8m L x 1.4m H
10m3 - 1.8m W x 4.7m L x 1.2m H or 1.7m W x 4.5m L x 1.4m H
Plus many more sizes right up to 30 cubic meters
What Wastes Can Go In Our Bins
In order give you the cheapest price on our range of bins we have different waste categories so we can efficiently sort, recycle and dispose of whatever you put in them. When selecting a service you should consider carefully if the rubbish you're removing is recyclable and if you should get a specialised service for its recycling. This especially important when dealing with concrete, clean fill and other heavy wastes that can be disposed of cheapest when dealt with separately at the origin.
Most household items can be placed directly in our Light or Heavy waste bins with some exceptions which may cost extra to place in the skip bin you hire. These items include mattresses, tyres, white goods and e-waste which all have additional disposal costs associated with them. Some of our depots charge extra however some do not so check the service description when you're booking on our website or call our helpful staff.
Placement of Skip Bins in Perth
It is easiest when skip can be positioned on your private property as it is unlikely that any other persons will complain to an Authority (such as your Council) about it. If however this is not possible you could have the placement on the roadway by one of our suppliers if you seek permission from your local council (assuming the container is going on their roadway). You will need to organise this permit prior to hiring as without the permission from the Council you may incur a fine.
Perth Skip Bin Prices
Good News, the price of Skip bin hire Perth is less expensive than many in Australian cities. Bin hire in Perth is about 30% less than in other cities. Skip bin prices vary by size and type of waste. Bin sizes are important when looking for cost effective skip bins. Get a bin hire Perth quote using the "Get Prices Instantly" panel at top Right of the screen.