Cheap Mini Skip Bin Hire in Melbourne Info & Costs
Bins Skips Waste and Recycling Melbourne
L
Great price
Lauren Weare
Excellent service
L
Great price
Lauren Weare
Excellent service
L
Great price
Lauren Weare
Excellent service
R
Good, quick Service
Richard Hryckiewicz
A good range of bin suppliers was provided with prices and the size of bins. Ordering through the site was quick and efficient.
M
Skip service
Michael Artus
I have had 2 bins in the last two weeks and thee service is Great, on time both times and friendly service by both office staff and the driver.
They took every care when dropping off the bins and picking them up as wire were close, but the drive took grat care with them. 5 star service, if you need a bin at a great rate and great service contact Bins Skips, you can't go wrong.
Mike Frankston north
T
Great Site
Tama Sweetman
theres a lot of annoying sites online that don't actually quote the price and have you fill out forms etc to get a callback. Bins Skip waste is easy to use, shows the price, and works. Great website!
V
Excellent Booking Service - Part 2
Vincent Liew
On Monday night around 7ish, we need another 6m3 bin as the first 4m3 skip is full. Texted Steve and he texted me back and helped me to organise one 6m3 to arrive on Tuesday morning no problem.

This business will go extra mile to help you to make the booking as smooth as possible.

As previous, if I can give 10 stars, I would.
V
Excellent Booking Service - Part 1
Vincent Liew
My 1st time booking with Bins Skips and the whole process is easy and smooth.

I called on the weekend seeking for last minute 4m3 skip Monday delivery, no problem at all. Steven answered and promise he can get a skip at my house on Monday and it did happen.

Professional in service and yet friendly in personality.

I would give them 10 stars if I have the choice and please support local small businesses. Their prices are very reasonable as well.
R
2m skip delivered to Rosebud Vic
Ros Sipala
Starting with the phone consult to order my skip,to delivery and pick up, it was easy and reliable.
I
Price
Ian Bhungard
A bit pricey for the skip.
Customer service was very good and helpful.
A
GREAT SERVICE
Anita Spur
Very helpful service from office staff.

Your Choice of Skip Bin Hire in Melbourne
Skip Hire Melbourne is the biggest bulk waste marketplace in Victoria and we have bins for hire. We hire skip bins and walk-in bins (hook-lift) in Melbourne with sizes between 2.0m³ and 30.0m³ (thirty cubic meters) in volume meeting the requirements of both residential rubbish cleanups, industrial fit-outs and construction projects. Choosing from our diverse selection of Melbourne skips has never been more convenient and you know your experience will be exemplary because each time we hire a skip bin in Melbourne our service is subject our customers' feedback. After we have collected it filled you're your garbage we request that you give us your thoughts on the service you received.
Our Melbourne skip hire services can be delivered to you anywhere from Werribee in the south west to Hurstville in the north east including services for the northern suburbs and eastern suburbs. Using the form you can search for the right skip hire Melbourne and book it right here on our website or you can call our friendly staff on (03) 8370 6253 who will guide you to the skip bins Melbourne that would be most suited to your needs.
Skip Bin Hire where Hook-lift walk-in bins are a big market segment for waste management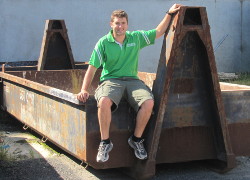 Hiring a skip bin Melbourne has never been easier than now, with Bins Skips' you can find the service that best fits your needs without confusing phone calls and lists of prices jotted down over the phone. Whatever size bin you need we have different services allowing delivery of various shaped bins so you get the skip that will fit the space you have or will fit the refuse items or trash you need to dispose of in the bin. Call us today to get a no obligation free quote for a bin delivered to you.
Mini Skip Bin Hire and Rubbish Removal Melbourne - The Sizes
We have multiple depots across the metropolitan area, delivering skips bins and walk-in bins for us. Most of these depots offer a broad range waste management services including skips bins and hook-lift walk-in bins. At the small end of the range we have mini skips for hire. Mini bin hire is the smaller skip bins that range in bin size between 2.0m³ and 4.0m³ (cubic meters). Melbourne Mini skips are ideal for waste management jobs like:
Small bathroom renovations
Moving rubbish disposal of cardboard packaging, boxes, wrapping materials & general waste
Cleaning out sheds and garages
Disposing of renovation materials that the council will not remove like sand, cement, concrete, bricks, etc
Disposal of soil and sand from gardens being refurbished
Clearing children's clutter like old toys, clothes, bikes, etc
Rubbish removal for household items, white goods like old fridges, dryers, washing machines, and other electrical items
Range of Melbourne skip bin sizes available

| | |
| --- | --- |
| | 3.0m³ walk-in hook-lift skip bins |
| | 4.5m³ walk-in hook-lift skip bins |
| 3.0m³ mini skip with ramp | 6.0m³ walk-in hook-lift skip bins |
| | 9.0m³ walk-in hook-lift skip bins |
| | 12.0m³ walk-in hook-lift skip bins |
| | 14.0m³ walk-in hook-lift skip bins |
| 4.0m³ mini skips with drop down ramp | 15.0m³ walk-in hook-lift skip bins |
| 5.0m³ skip bins Melbourne | 16.0m³ walk-in hook-lift skip bins |
| 6.0m³ skip bins with drop down ramp | 20.0m³ walk-in hook-lift skip bins |
| 8.0m³ skip bins with drop down ramp | 25.0m³ walk-in hook-lift skip bins |
Cheap Skip Bin Hire Costs Melbourne
When looking for the best skip bin or cheap skip bin hire in Melbourne it is important to be aware of the initiatives by State and Local government to reduce illegal tipping or "fly" tipping. Fly tipping is the practice of disposing of waste illegally in locations away from the eye of the public like National Parks, reserves, and private land off the beaten track or anywhere that is not a licence facility. Melbourne skip bin hire costs vary from suburb to suburb and council area to council area. The factors that effect the skip bin hire Melbourne prices are:
The travel to and from your site (twice for delivery and pick-up) and
The charges for waste disposal at a licencsed land-fill, who also collect state waste taxes for rubbish going to landfill.
And while on the subject of the cost of waste disposal it is worth mentioning that Melbourne has a number of recycling facilities that are used by skip bin companies to avoid the state landfill tax. These facilities recycle materials like green waste, bricks, concrete, soil and aggregates. This means that if you are looking for cheaper waste disposal options it is worth looking for skip bin recycling options and separating your waste where it makes sense. In the west of the city being more commercial and industrial area and some great disposal options that result in lower price skip bins. We have lots of options for cheap bin hire Melbourne so get searching on our website of call (03) 8644 2933 and let one of our friendly staff help you.
Melbourne Skip Bin Sizing for Waste Types
Sizing Skip Bins in Melbourne is the same as anywhere else in Australia. Focus on estimating the volume of waste types in cubic metres. When trying to estimate the size of bin needed try to bring your rubbish together into as few piles as possible or piles that are about a cubic metres. It is very hard to guess what volume of waste you have you a dozen or more small piles all all around the place. It is better to get the rubbish together in piles that are about a cubic metres in size (that is 1m by 1m by 1m). Then all you have to do is count the number of piles that you have and that is the number of cubic meters of waste you have, and hence the Bin Size you need. We have a number of pages that give move specific information about bin sizing for different waste types (in cubic metres) for a range of different waste type shown below:
Sizing Soil Skip Bins Melbourne
Estimating the Size of Skip Bins for Commercial
Guesstimating the quantity of garden waste that you have grown
Scrap metal bin sizing
Tips for Bin Hire in Melbourne
Our top tips for finding the best Melbourne bin hire are here:
When looking for a skip bin check the price of mini skips and hook-lift bins larger and smaller than the specific size of bin you think you might need.
If you have enough waste consider separating different types of waste espcially:

Scrap Metal
Green Waste (garden waste)
Concrete
Masonry (ceramic bricks and tiles)
Soil or Clean-fill

Avoid contaminating heavy wastes with general light (household waste) rubbish wherever possible
Plan ahead to find your best rubbish removal service & waste options
If you can not find rubbish skips Melbourne call us on (03) 8644 2933 and let one of our friendly staff help you.