Find Skip Bins Wizard
To find what ship bins are available in your suburb for you to hire, all you need to do is complete the following items and click on the search button:
The only information you really need to complete to get started is the name of the suburb where you want the bin delivered. Just stat typing the name of the suburb. After you have type the first 3 characters of your suburb name then we will try to make things easier for you by popping up a list of potential suburbs that match what you have type so far. Keep typing until you see you required suburb name in the list and then click on it.
If your suburb name never appears that might be because you are entering a locality rather than a suburb name as recognise by the Australian Bureau of Statistics. To Check try entering the postcode for your suburb and we will provide a list of the recognised suburbs in that postcode. Just click on the suburb that is closest to where you want the bin delivered.
At this point you can click on the search button and we will provide you with a list of bins that are available for hire for General Light waste that are about 3 cubic meters in size. This will give you a set of search result that can be seen here. (link)
Currently there are about 15 different sorts of Waste Type available to choose from. Many of the waste may not be available in your suburb because their availability is usually determined by what local waste disposal and recycling facility are available in your area or region. Whilst State Government have been collecting Waste and Landfill taxes they have not spent very much of that money on new recycling facilities or encouraging private investment so the choice of Waste Types might be limited to the basics.
Types Of Waste
The types of waste is a drop down list that you click on and select your chosen waste type. The 3 basic waste types are:
General Light Waste – General light waste is what most residential and commercial customers have. This might include furniture, books, papers, white goods, unwanted toys, exercise equipment etc.
Heavy General Waste – Heavy General waste can include general light waste but is differentiated because it holds heavy or dense materials that weigh a lot. Materials like bricks, tile, paver, concrete, sand, soil, tree stumps or trunks are all heavy, weigh about 1 to 1.5 tonne per cubic meter (about 10 times as heavier than normal general light waste).
Asbestos – Asbestos is listed as another basic waste because it cannot be placed in any other sort of bin (without exception). Asbestos is considered hazardous by government authorities and they have a range of rules and regulations to control the disposal of it. Breaching Asbestos rules and regulations is a serious offence that will result in a great risk of financial penalty to the source of the Asbestos (the householder of the business that owned or generated the hazardous material.
To find out more about these and other type of waste check out our pages on Waste Types
Volume of Waste
The volume of waste is important because that determines what size of skip bin you will need. Estimating how much waste you have is often easier than most realise. The basic measure of waste is the humble cubic meter. That is like a box that is 1-meter tall, 1-meter wide and 1-meter deep (front-to-back). In the majority of locations the smallest bin available is 2 cubic meters, that is the same as 2 boxes that 1 cubic meter in volume (like a box 1m high, 1m deep and 1m wide). There are a number of different ways of estimating volume and the basic ones relate to estimating a known volume. Like how many wheelie bins of rubbish have I got or how many standard 6 by 4 trailers could you fill (level loaded the rim of the trailer). Wheelie bins are roughly about a 1/3 of a cubic meter or put another 6 wheelie bins of rubbish is the same as 2 cubic meters. For the trailer when level loaded it is about the same as one cubic meters of waste. So if you thought you would need to make 4-trips to the tip, you can save that time and effort by hiring a 4 cubic meter bin.
To select you volume of waste click on the field and a drop-down list will appear. Click on the volume that most closely matches your estimated volume.
Delivery Date
Type in or select via the calendar the date you want the bin delivered.
Skip Hire Search Results
The Skip Hire search results list contains the summary information about 5 services, even though there might be many more. There are the five service that best match your search criteria. You can book the bin from here or you can click on the bin diagram, the service title or the button for more information.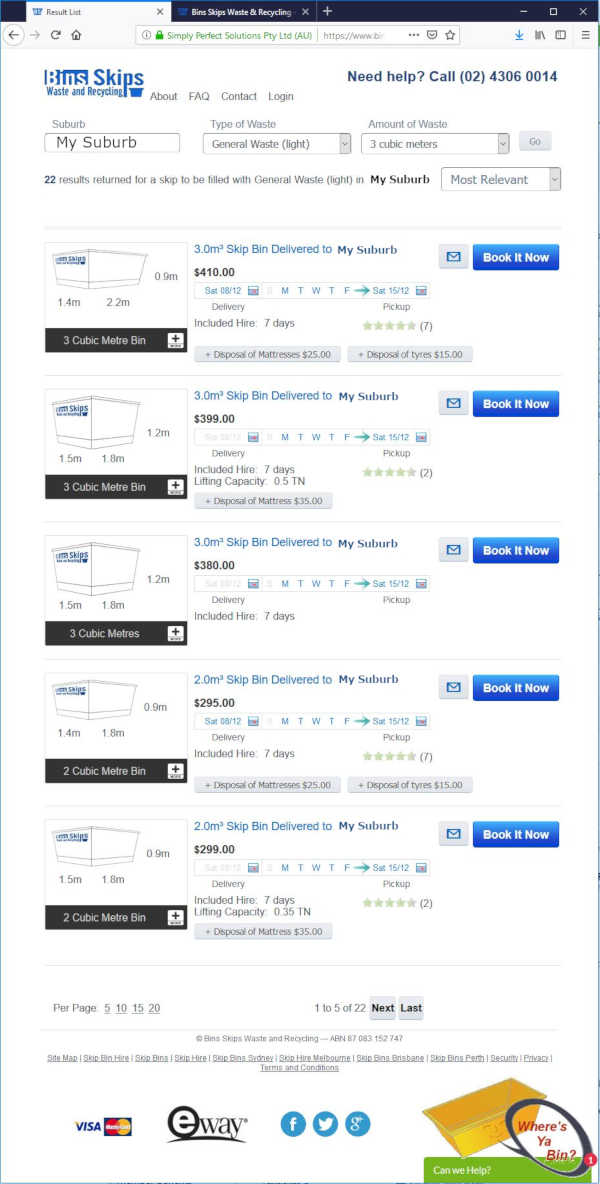 Service Detail
We recommend you read the detailed service information about a Skip Bin before you book your skip bin. This is necessary so you know exactly what you can put in a bin and all the other important information about the bin. To understand the booking process from here the the article on Booking a Skip Bin at Bins Skips Waste and Recycling in detail. (Link to news article)