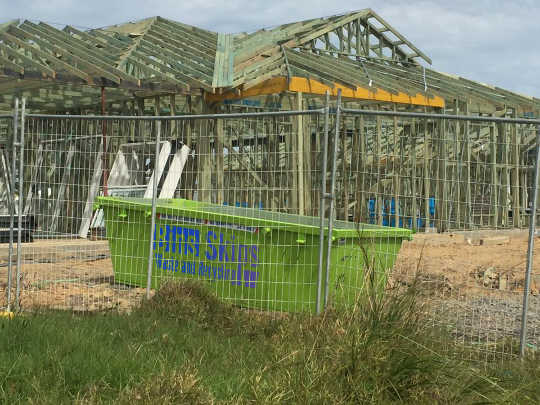 Melton Skip Bins for Hillside, Taylors Hill, Sydenham and Kurunjang
Melton is a fast growing residential suburb north west of Melbourne. Melton has plenty of options for Skip Hire with skip operators located both within the Local Government Area (LGA) of Melton and also around Melton in adjacent LGA's. As with many similar situations where skip bins are delivered to a suburb from both local and remote depots some tie the hardest thing can be to find a local skip bin business. Different to elsewhere Melton's local skip bin providers primarily focus on General light waste as there or not very many local disposal and recycling depots for heavy waste like bricks and concrete, soil or dirt (known as clean fill).
Melton does not have a landfill tip (where waste is buried) within the local government area. It processes most of the waste collected by the council services via their MRF (often referred to as a murf) which is a Materials Recycling Facility. The MRF will accept rubbish from residents upon productions of entitlement vouchers or a rates notice. Without valid proof of entitlement the MRF charges for the rubbish to be disposed of. Alternatively to dropping waste off at the MRF the council also offers a hard qwaste collection service for up to 3 cubic meters of waste a couple of times a years. The MRF is open 7-days a week from 8:00 am to 4:30 pm sharp. The best thing about the Hard Waste Collection is that the council will accept mattresses for free (whereas they normally charge $30 when taken to the transfer station.
Bins Skips Waste and Recycling delivers a wide range of skip bins to the Melton area from 2.0m³ to 16.0m³ for a broad range of waste types. If you need help to work out what size bin you need or what type of waste you have give one of our friendly staff a call.
Frequent Questions about Skip bin hire Melton
How much money does it cost for a skip bin delivered to Melton?
We have very competitive pricing for the delivery of skip bins to Melton and surrounding suburbs. The lowest price skip hire is $195 for a 2 cubic meter bin for general light waste (or green waste). As we pride ourselves on delivering a reliable service we also understand the importance of service and not just providing the lowest prices.
Is it possible to get a free quote for skip hire in Melton?
You can get one more more free quote by completing the Get Prices Instantly panel / form to the top right of this question. Just tell us your delivery suburb what size of bin you want and the type of waste you have. Click the button to get a shortlist western suburbs service(s). Behind each entry in the list there is more information available by clicking on the entry. Each entry contains important information about the great service including reviews from previous customers.
What Waste Types can be placed you Melton Skip Bins?
We categorize Skip Bin Services by Waste type to provide the best prices for each bin type and bin sizes. Here is a summary of the waste types currently available:
Light General waste skip bins can be used for rubbish removal of household rubbish, commercial trash and junk, like office furniture, white goods, furniture, old clothes, and green waste.
General Heavy waste skip bins are for building and construction waste that can contain bricks, concrete, soil, dirt and other heavy materials as well as general light waste.
Clean fill skip bins are for soil or virgin natural excavate materials ( clean of other rubbish, general waste or man made materials).
Green waste skip bins are for garden waste, grass clippings, plants and tree and hedge trimmings.
Can we have the skip bin placed on the nature strip at the front of our property?
The City of Melton Council allows skip bins to be placed on their property (the nature strip around your property and the road), as long as you have organised a bulk waste bin/shipping container permit. As the council require permit applications and fees to be submitted at least two weeks prior to delivery of the bin.