Skip Bin Hire Melbourne delivering bin in All Melbourne suburbs
Bins Skips Waste and Recycling Melbourne
V
Light waste 8m
Victoria Grech
Great service Great Price
Will use again very soon
5 stars
T
Pick up delayed
Tom Owen
Bin pickup should be as advertised not days later please.
S
Good service - easy to arrange
Steve Aicher
Good price and easy to book through the website. Would use again
N
Good service
Nick Harvey
Price was OK, friendly service on phone.
D
BEST.
Dan Herbert
easy online booking. heaps of waste type options. good size selection. will continue to book skips from them.
C
Very good service thank you
Craig McDonald
The only small thing was the email that asked if I needed the pickup date to be changed to contact you. As I didn't need it changed, I was unaware that I needed to contact you anyway, as the booking initially had a pickup date. The fact that it was picked up the next day wasn't a worry, you called me to confirm and that is good service.
M
great service
Mary mckenna
dropped off and collected as requested.
F
Awesome service and Value
Fiona Smith
When I called,the phone was answered by a friendly and attentive person. They were able to organise a bin at a great price to be dropped off that day which was perfect for our needs.
K
Hiring of 3m skip
Keith Talbot
We are very impressed with the service and would recommend to anyone
W
Bin review
Wilson Colin
Very good size just right.
G
Excellent and Easy
Gary Rowe
Ordered online simple and easy, a number of quotes to choose from. Ordered, acknowledged, delivered on time picked up on time. Great service and the skip provider did the job.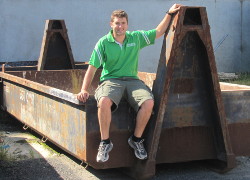 Skip Hire Melbourne is the biggest bulk waste marketplace in Victoria. We hire skip bins and walk-in bins (hook-lift) in Melbourne with sizes between 2.0m³ and 30.0m³ (thirty cubic meters) in volume meeting the requirements of both residential rubbish cleanups, industrial fit-outs and construction projects. Choosing from our diverse selection of Melbourne skips has never been more convenient and you know your experience will be exemplary because each time we hire a skip bin in Melbourne our service is subject our customers' feedback. After we have collected it filled you're your garbage we request that you give us your thoughts on the service you received.
Our Melbourne skip hire services can be delivered to you anywhere from Werribee in the south west to Hurstville in the north east including services for the northern suburbs and eastern suburbs. Using the form you can search for the right skip hire Melbourne and book it right here on our website or you can call our friendly staff on (03) 8370 6253 who will guide you to the skip bins Melbourne that would be most suited to your needs.
Hiring a skip bin Melbourne has never been easier than now, with Bins Skips' you can find the service that best fits your needs without confusing phone calls and lists of prices jotted down over the phone. Whatever size bin you need we have different services allowing delivery of various shaped bins so you get the skip that will fit the space you have or will fit the refuse items or trash you need to dispose of in the bin. Call us today to get a no obligation free quote for a bin delivered to you.
Skip Bin Hire Sizes in Melbourne
Range of Melbourne skip bin sizes available

| | |
| --- | --- |
| 2.0m³ mini-skip bins | 3.0m³ walk-in hook-lift skip bins |
| 2.5m³ mini-skip bins | 4.5m³ walk-in hook-lift skip bins |
| 3.0m³ skip bin with ramp | 6.0m³ walk-in hook-lift skip bins |
| 3.0m³ mini-skip bins | 9.0m³ walk-in hook-lift skip bins |
| 3.5m³ mini-skip bins | 12.0m³ walk-in hook-lift skip bins |
| 4.0m³ skip bins | 14.0m³ walk-in hook-lift skip bins |
| 4.0m³ skip bins with drop down ramp | 15.0m³ walk-in hook-lift skip bins |
| 5.0m³ skip bins | 16.0m³ walk-in hook-lift skip bins |
| 6.0m³ mini-skip bins with drop down ramp | 20.0m³ walk-in hook-lift skip bins |
| 8.0m³ mini-skip bins with drop down ramp | 25.0m³ walk-in hook-lift skip bins |