Wollongong Skip Hire with handy depots all along the coast Helensburgh to Kiama
Skip bins in Wollongong may be hired online through our site where we offer you the greatest choice of skip hire in Wollongong. These services are provided by partner service providers and because we focus on positive consumer feedback, you know our partners in Wollongong providing skip bin hire services are reputable. No matter if you need a skip for a garage clean out or a renovation, Bins Skips' (Bins Skips Waste and Recycling) is the place to find your skip bin in Wollongong. To book and pay for hiring a skip bin on our site takes just 4 easy steps. So when you need a skip, Bins Skips' is your one stop shop for all your skip hiring and skip bin needs in Wollongong.
Skip Bin Sizes available in Wollongong
A range of skip bin sizes are available in Wollongong from 2 cubic meters to 23 cubic meters which means that no matter the size of the job we can supply a skip bin for your job in the Wollongong area. Below are the specific sizes and dimensions of the skip bins we can hire in Wollongong.
2m3 Skip Bins - 1.2m W x 1.9m L x 0.9m H
3m3 Skip Bins - 1.2m W x 2.5m L x 1.0m H
4m3 Skip Bins - 1.3m W x 3.2m L x 1.0m H
6m3 Skip Bins - 1.5m W x 4.0m L x 1.2m H
9m3 Skip Bins - 1.7m W x 4.6m L x 1.2m H
15m3 Skip Bins - 2.3m W x 6.7m L x 1.0m H
23m3 Skip Bins - 1.3m W x 6.7m L x 1.5m H
Please use the "Skip Bin Search" button below to get a quote for the above skips bins as prices vary between suburbs in the Wollongong area.
Special Requirements and Roadway Placements
If you have any special requirements or require a roadway or footpath placement of the skip bin in Wollongong please call to talk to one of our friendly staff prior to the hire of the skip as permission may be required from the council to put the bin in the desired location. Where the skips need to be on-site for a limited period or you need to dispose of food wastes or similar rotting debris we can organise for your bin to be on-site for a limited period.
Landfills and Resource Recovery Depots near Wollongong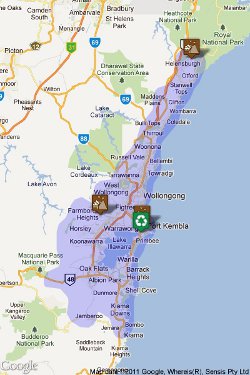 There are a limited number of waste facilities in and around Wollongong where wastes can either be recovered or placed in landfill. Often these facilities are not open to the public or are not located conveniently for consumers to use for disposing of materials that cannot be collected by council. Skip Bin Hire services in Wollongong provide a reliable and cost effective method that doesn't require a ute or truck for disposing of building wastes or general household items when required. Waste collected in Skip Bins in Wollongong is taken to one of the resource recovery or landfill location close to Wollongong for processing.