Skip Bins Wollongong delivered to Woonona, Figtree, Dapto & more
Bins Skips Waste and Recycling Wollongong
M
good
Michael Wakefield
Handled order well
A
Skip
Abraham Mathew
Excellent service
A
excellent skip bin
Abraham Mathew
good skip bin service
J
Feedback on bins skips waste and recycling
Judy Fitzsimmons
Bin was clean & delivered on time & parked perfectly I have recommended your company to neighbor across the road in either 25 or 29 Bath St. Picked up quickly after requested. I would definitely use this company again.
J
Clean up Bin
John Crinnion
Excellent service - easy to use via online. Will use again if needed.
J
Great
Jessica Faustini
Friendly driver, easy to book and the best price I could find!
J
Hutton Ave
Jason Dunn
Great service and early pick up request without a problem. Friendly delivery team.

R
Ross Fraser
ROSS Fraser
Great service thankyou
M
Highly Recommend
Mete Yavuzer
Very helpful staff from start to finish.
Very competitive prices.
I can highly recommend this service.
P
BIN SUPPLY
Peter Adlington
Happy with the service but need a total invoice for tax purposes - only got the additional cost invoice
B
Microsolve
Brittany Anderson
Fantastic! It was very easy to book a bin in, we needed to extended the amount of time we had the bin by an extra week. Which was very easy and flexible.
Skip Bin Hire Wollongong
There are plenty of Skip bins in Wollongong and the Illawarra and plenty of choice too. Bins may be hired online through our site where we offer you the greatest choice of skip hire in Wollongong. When you search for services you will find a choice of bins of the same size because we have multiple depots competing for your business. These depots have different types of bins, different disposal options and different travel requirements, all leading to a broad spectrum of choices and prices. Our delivery partners know we focus on positive consumer feedback and work hard to gain your approval and positive feedback. When you review your options at Bins Skips Waste and Recycling you can see other customers feedback on the suppliers services and you can make and informed choice on more than just price. You will also see that our partners in Wollongong providing skip bin hire services are reputable. No matter if you need a skip for a garage clean out or a renovation, Bins Skips' (Bins Skips Waste and Recycling) is the place to find your skip bin in Wollongong.
Get the Choice You Deserve for Skip Bins in Wollongong
To find, book and pay for hiring a skip bin on our website in the Illawarra takes just 4 easy steps. So when you need skip bin hire all you need to do is fill in the "Get Skip Bin Prices for Wollongong Now" panel to the top right. Completed the panel and click on Get Prices is just like requesting a free quote from 5 waste management companies (all of whom want to hire a skip to you). Then you get to pick the waste management service that best suits you. Waste disposal doesn't need to be hard when you can get the best choice of rubbish removal services. Check out the reviews for each of the skip bin services along with all the other details about the services. Alternatively call (02) 4201 0198 and speak to one of our friendly Australian staff about your waste disposal.
Wollongong Range of Skip Bin Sizes
A range of skip bin sizes are available in Wollongong from 1.5 cubic metre to 23 cubic meters which means that no matter the size of the job we can supply a skip bin for your job in the Wollongong area. Below are the specific sizes and dimensions of the skip bins we can hire in Wollongong.
2m3 Skip Bins - 1.2m W x 1.9m L x 0.9m H (2 cubic metre)
3m3 Skip Bins - 1.2m W x 2.5m L x 1.0m H
4m3 Skip Bins - 1.3m W x 3.2m L x 1.0m H
6m3 Skip Bins - 1.5m W x 4.0m L x 1.2m H
9m3 Skip Bins - 1.7m W x 4.6m L x 1.2m H
15m3 Skip Bins - 2.3m W x 6.7m L x 1.0m H
23m3 Skip Bins - 1.3m W x 6.7m L x 1.5m H
Please use the "Skip Bin Search" button below to get a quote for the above skips bins as prices vary between suburbs in the Wollongong area.
Wollongong Skip Bin Hire Waste Types
Disposal options in Wollongong are a little limited, but on the good side the are good options for recycling bricks and concrete. Despite the quantity of homes built from asbestos, waste containing asbestos has to be sent to Western Sydney for disposal. Green waste can be placed in green recycling skips and or general light waste bins.
Wollongong Skip Bins Service Area
Skip Bins are delivered to about 99% of suburbs in the Wollongong local government area. This means that there is a great choise of services in the subusb like Woonona 2517, Figtree 2525, Dapto 2530, Horsley 2530, Berkeley 2506, Fairy Meadow 2530 and Corrimal 2518. Services are also provide in some of the more remote bush areas like Helensburgh 2508, and coastal locations such as Bulli 2516, Thirroul 2515 and Port Kembla.
Special Requirements and Roadway Placements in the Illawarra
If you have any special requirements or require a roadway or footpath placement of the skip bin in Wollongong please call to talk to one of our friendly staff prior to the hire of the skip as permission may be required from the council to put the bin in the desired location. Where the skips need to be on-site for a limited period or you need to dispose of food wastes or similar rotting debris we can organise for your bin to be on-site for a limited period.
mited period or you need to dispose of food wastes or similar rotting debris we can organise for your bin to be on-site for a limited period.
Wollongong Waste Management: Landfills and Resource Recovery Depots in the Illawarra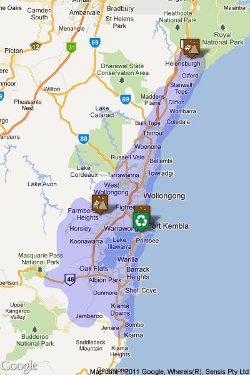 There are a limited number of waste facilities in and around Wollongong where wastes can either be recovered or placed in landfill. Often these facilities are not open to the public or are not located conveniently for consumers to use for disposing of materials that cannot be collected by council. Skip Bin Hire services in Wollongong provide a reliable and cost effective method that doesn't require a ute or truck for disposing of building wastes or general household items when required. Waste collected in Skip Bins in Wollongong is taken to one of the resource recovery or landfill location close to Wollongong for processing.
City of Wollongong Council free Rubbish Removal Services
In addition to the normal weekly rubbish removal service, the City of Wollongong also offer hard waste collections for bulky items and green waste for resintial properties (not commercial).