Skip Bin Hire Perth All Skip Sizes & Best Prices Including Cheap Mini Skips Perth
Bins Skips Waste and Recycling Perth
G
Great service
Glenn Ross
Very easy booking process and quick responses to phone queries.
S
Clemros Way Leeming
Scott Bradshaw
Delivered and picked up as requested
I
Good Service
ian thomas
Good friendly service and punctual.
C
Skip Bin
Chris Pemberton
Good service when requested
M
Excellent Skip Bin Hire Service in South Lake WA
Marian Mayhew
Friendly staff, Kristen helped me with the exact size for my needs. Delivered and taken away smoothly. Will be booking again soon when required.
C
Great service all around for Baldivis Skip Bin Hire
Craig Andres
Great experience easy to book delivered on the dot friendly staff
Great all round
M
Skip Bin order for Warnbro WA
Marta Ferreira
Simple and easy to organise, on time and friendly delivery staff! The experience was excellent
M
Skip bin order
Marta Ferreira
Simple and easy to organise, on time and friendly delivery staff! The experience was excellent
A
10m3
Andrew McCarthy
Way too expensive. I got another one delivered this Saturday from another company who only charges $620 Inc GST
M
Skip bun order
Marta Ferreira
Simple and easy to organise, on time and friendly delivery staff! The experience was excellent
M
Skip bin order
Marta Ferreira
Simple and easy to organise, on time and friendly delivery staff! The experience was excellent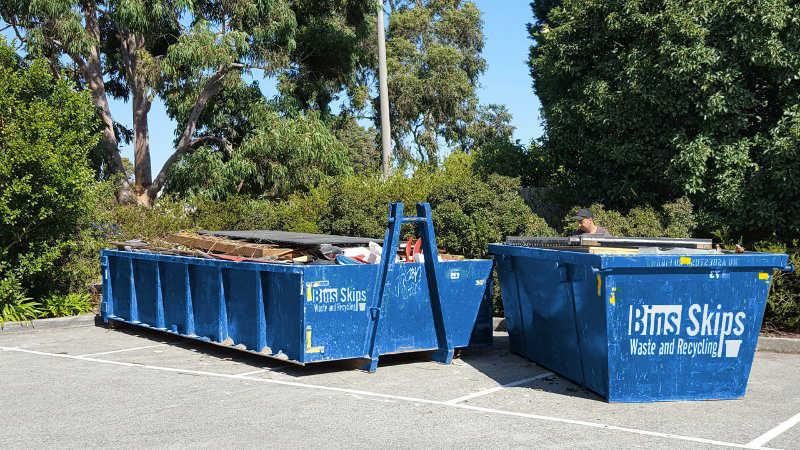 For the best Skip Bin Hire in Perth please consider Bins Skips Waste and Recycling
For easy, quick and safe removal of rubbish from commercial and residential properties, we provide a range of skip bins in Perth through an online booking system that services Western Australia and beyond. Perth bin hire is different, with the city split between north and south and many local government areas with differing policies for waste management, making delivery of mini skips in Perth and other bin sizes complex. If you're looking for a skip hire Perth has that can offer a cost-effective and prompt solution to your waste disposal needs, call Bins Skips Waste and Recycling.
The Cheapest Skip Bin Hire Perth Residents Have Seen
We are proud to bring you the cheapest skip bin hire in Perth that lives up to the highest standard of service. A renovation project or a major clean-up of residential property would often leave you with a massive pile of waste, which if not dealt with quickly, could result in an environmental problem, among others. Take advantage of our prompt and professional service that comes in different waste removal categories for efficient sorting, recycling and removal of whatever customers put into our skip bins. For wastes beyond our scope, we will advise customers on the best solution to take.
Care About the Environment with Green Waste Skip Bins Perth
We help ensure the city is kept clean. Environment regulations are well respected in this Australian city, as residents are made fully aware of the negative effects of improper waste management on the environment. Come to Bins Skips if you're looking for the most efficient green waste skip bins in Perth. We are your environmental ally for your residential renovation or even commercial construction projects. You can also come to us to help you find waste bins in Perth to handle asbestos disposal, which some providers of bins skip or back down from. Try our booking service now!
From Rubbish Bins Perth To Mini Skip Hire Perth We Have The Solution You Need
Our rubbish bin hire in Perth can come in many shapes, types and bin sizes, delivered by a variety of trucks to accommodate different load carrying capacity and to access any area. If you're looking for mini skip hire in Perth to provide a prompt solution to your rubbish disposal woes, we're among the rubbish removal services with same day service or same-day delivery in many areas. We can deliver the skip bins you require for your commercial or residential project at half a days' notice, as long as you call in the early part of the morning.
Reliable Small Skip Bin Hire Perth Which Won't Break The Bank
Working with waste disposal depots across the whole metropolitan area for over a decade, we have become a cost-effective waste management solution, providing reliable skip bins that are good for the environment and good for your wallet. Aside from allowing you to check the available small skip bin hire in Perth, you also have access to previous customers' feedback on each skip bin company. Be it left-over industrial materials, garden waste, or materials your home can no longer accommodate, no rubbish removal job is too big or too small when you contact the right mini skip bin hire in Perth.
The Number One Destination For Rubbish Removal In Perth - Hire A Skip Today
We understand the challenges and the urgency of waste management, which has led to the surge of searches on 'Perth skip hire near me,' the main reason our team wants to ensure businesses and homeowners have access to the best Perth bin hire services. Through our online booking service, you get to see the price of skip bin hire services and additional information such as items a skip bin company would include and the type and sizes of skip bins. With those details and our wide range of skip bin businesses, it's easy for you to compare and choose a service.
Cheap Bins Perth From The Industry Leaders In Rubbish Removal
Whether you're a customer looking for affordable ways to get rid of residential rubbish, or a business wanting your industrial waste handled in a professional way, we'll bring you the best rubbish removal services in the city. We assess every skip bin professional's quality of service, so you get to pick from a list of cheap skip bins in Perth and work with a skip bin company with excellent customer service. It's our business to make the selection of a skip bin hire easier for you by providing you with the best possible choices of rubbish bins in Perth.
We Guarantee The Best Skip Bin Hire Perth Prices You Will Find Online
Be able to find an affordable skip bin hire Perth has that will help you with waste removal or complement your waste management efforts. Over the years, our service has linked residential and commercial customers in metropolitan areas as well as the suburbs to the Perth bin hire that provides the best services that best suits their needs. When you make use of our booking system to get a skip bin hire in Perth, prices are already inclusive of delivery, the collection as well as disposal. Get a quote from the most reliable skip bins through our Find Skip Bins Wizard.
Skip Bin Hire Perth FAQs
How much is it to hire a skip bin in Perth?
Skip bin prices in Perth are less expensive than in many other cities in Western Australia. The price range of a Perth bin hire can be between $210 and $850, depending on the site location, type and amount of waste to dispose of, and the size of skip bin to use, among others. The skip bin hire Perth prices already cover delivery, collection as well as disposal. It's easy to find cheap skips in Perth. When looking for skip bins, skip the usual tedious online searching for skip bin hire. Instead, use our Find Skip Bins Wizard service on the right side of our webpage, displayed as a form titled 'Get Skip Bin Prices for Perth Now.' It has been helpful for each customer to get a quote and get an affordable skip bin service, including one that provides same-day delivery. A step-by-step guide will appear when you click on the panel's title. If you require more information, don't hesitate to give us a call during our office hours 7:30AM to 6:00 PM.
How big is a 4 cubic meter skip?
The 4m3 mini skip bins in Perth are the most popular of all bin sizes. Our 4m3 Perth skip bin is around 1.8 meters wide, 2.3 meters long, and 1.2 meter high. The 4m3 bin size can handle all types of waste resulting from small renovation, construction as well as demolition projects. If you're looking for a skip bin hire Perth has that can hold up to 5 tonnes of concrete or soil, we have a Perth bin hire that will offer a 4m3 skip to you at an affordable price. To learn more about the different sizes of bins Perth has as well as the best skips Perth has, call Bins Skips Waste and Recycling. Our team will help you choose from skip bins that range from 2m3 up to 30m3.
What can go in my Perth skip bin?
Skip bins make waste management easy, no matter the amount of rubbish you have to deal with. A waste bin hire in Perth will handle any waste type, from green waste and household items to construction and demolition waste, depending on the bin size. Our team can help you find cheap bins in Perth to carry plastics, furniture, glass, appliances, and electronics, among many others. If it's a green waste skip bin hire in Perth that you require, all you have to do is give us a call and we will provide you with the best skip bins to help you properly dispose of your organic materials such as leaves, weeds, bush clippings, compost, shrubs, cut grass, wood chips, branches and tree stumps.
How does the Perth skip hire delivery, collection and disposal process work?
Once an order is placed for skip hire in Perth WA, the waste management starts with the delivery of the skip bins to the address provided, where they would remain within the hire period. Perth bin hire customers can then load their rubbish and wastes into the skip bins and at the end of the hire period, the bins will be collected and taken to a waste treatment facility, where the contents are sorted and processed accordingly. If the contents are recyclable wastes, they will be taken to the recycling facility, if the waste is organic, it will be turned into compost. Other wastes end up in the landfill. Bins Skips Waste and Recycling is owned and operated by Australians who want to ensure a clean and safe environment for every resident, and we would be happy to help get you a skip bin hire that doesn't only have geographical knowledge on the city, but also one that should be familiar with the different waste management policies of the many local government areas in the city.