Skip Bins Perth - Skip Bin Hire Perth in Any Metro
Bins Skips Waste and Recycling: Perth
L
Booking
Lou Tognolini
Booking process was very simple.
J
Skip Bin delivered to Mundaring
Joan Wyber
4 star
S
Bins Skips Customer Service
Susan Kovacevic
Excellent service. Prompt delivery! Will definitely use them again.
M
Easy Booking
Margaret Robinson
Booking the skip bin was made easy by the helpful girl who answered my call for assistance. I wasn't sure how much was I had or how to judge it. Sarah was very helpful working out what would suit my needs and taking the booking on the phone.
T
Eskdale st Roleystone
Tony Nicholson
Good communication on the phone - everything explained. Exact delivery. Good communication during rental on pick up. Prompt pick up.

Overall a good company to work with - good communication throughout and service exactly as requested. Will use again. Thank you.
A
late but owned it
Anne Clarke
phone service was initially good but when it got a bit challenging the follow up was ordinary
A
Delivery problems
Angela Ryan
Bin was fine no issues
M
Review on skip bin
Michael Rowley
5 star rating definitely recommend them
L
Bins hire
Lucy Da Silva
Fast and easy online bookings, prompt service and great prices.
M
2m bin
Michele Wernentin
Excellent Service
V
Skip Bin
Vicki Mcevoy
Fantastic Service from the first phone call I was told the bin would arrive early on the Tuesday morning and It did ..then picked up when indicated ...Very happy with your service will be using again in for future projects and will be recommending your bins to my friends .
Have you found yourself with a large amount of waste or rubbish to handle? You've found the perfect place to get skip bins Perth north or south of the river and get your waste and rubbish removal needs fully met.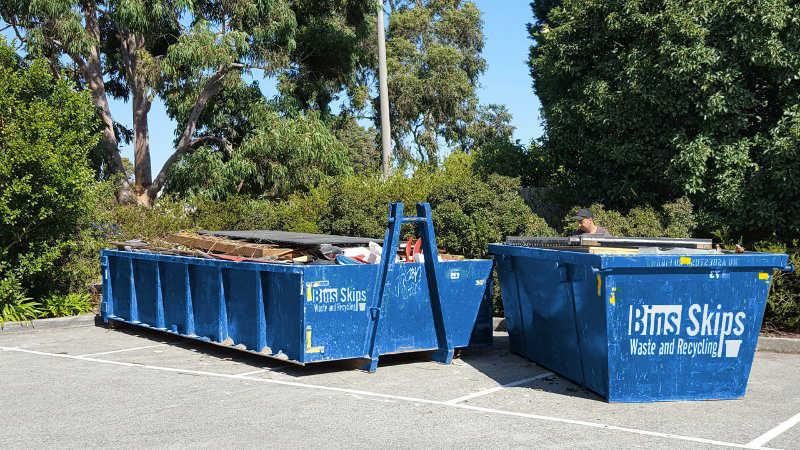 Welcome to Bins Skips Waste and Recycling - We are an Australian owned and operated company with more that 10 years experience delivering excellence in the waste management industry. Our skip hire Perth south and north of the river are easily the best services available in the Perth metro area.
We provide skip bin hire in Perth's northern and southern suburbs and are experts in helping our valued customers get the right waste removal solution with a high degree of punctuality, efficiency and friendliness irrespective of their requirements big or small.
We Have A Skip Bin Size to Suite Your Job
Our skip bins Perth come in many different shapes, sizes, types and can be delivered by a variety of distinctive of trucks to handle different situations. Some trucks employ a marrel system which levers the container off the back of the vehicle and directly into position whereas others use a RORO system (Roll-On Roll-Off) where the skip bin is levered off the truck with a hydraulic arm and then maneuvered on rollers at its rear. There are also trucks which use a crane to deliver (potentially over walls and other obstacles) but which can only be used with small mini-skips (two or three cubic meters). The varieties of delivery methods notwithstanding the skips themselves are infinitely diverse with shapes and styles to meet differing requirements. Because we work with multiple partners we can offer you an unequalled variety of services.
Our sizes include:
2m3 - 1.2m W x 2.3m L x 0.9m H
3m3 - 1.4m W x 2.3m L x 0.9m H
4m3 - 1.8m W x 2.3m L x 1.2m H - Most Popular
5m3 - 1.8m W x 2.3m L x 1.25m H
6m3 - 1.8m W x 3.0m L x 1.2m H or 1.4m W x 3.2m L x 1.5m H
7m3 - 1.8m W x 3.6m L x 1.2m H
8m3 - 1.7m W x 3.8m L x 1.4m H
10m3 - 1.8m W x 4.7m L x 1.2m H or 1.7m W x 4.5m L x 1.4m H
Plus many more sizes right up to 30 cubic meters
What Wastes Can Go In Our Bins
In order give you the cheapest price on our range of bins we have different waste categories so we can efficiently sort, recycle and dispose of whatever you put in them. When selecting a service you should consider carefully if the rubbish you're removing is recyclable and if you should get a specialised service for its recycling. This especially important when dealing with concrete, clean fill and other heavy wastes that can be disposed of cheapest when dealt with separately at the origin.
Most household items can be placed directly in our Light or Heavy waste bins with some exceptions which may cost extra to place in the skip bin you hire. These items include mattresses, tyres, white goods and e-waste which all have additional disposal costs associated with them. Some of our depots charge extra however some do not so check the service description when you're booking on our website or call our helpful staff.
Placement
It is easiest when skip can be positioned on your private property as it is unlikely that any other persons will complain to an Authority (such as your Council) about it. If however this is not possible you could have the placement on the roadway by one of our suppliers if you seek permission from your local council (assuming the container is going on their roadway). You will need to organise this permit prior to hiring as without the permission from the Council you may incur a fine.