Cheap Skip Hire Canberra ACT All Skip Sizes Available Including Mini Skip Bins
K
Curtin
Kathy Korsch
Excellent
K
Curtin
Kathy Korsch
Excellent
A
SKIP BIN - Skip Bin Hire Higgins (Canberra)
Anne Mcgrath
Great service. Notified delivery would be a little late due to staff sick. Bin still delivered on nominated day. Bin collected on nominated day.
C
Skip Hire
Cathy Ravanello
Happy with this service, Sarah very professional sand friendly. Delivered on day we asked for.
Happy to recommend this service.
J
Cheap and easy to hire
Jambay Dorji
It was Saturday night I wanted to hire a Skip Bin for Monday but no skip bin hiring company gave me assurance, they all need to confirm on Monday via call. So, I came across Bins Skips while googling and eventually hire from them because in their website everything is simple to understand, that made it easy to select which type of skip bin i want. I hired a 3 cubic meter light waste skip bin and it is of decent size, my 3 seater sofa along with 2 single bed mattress and other stuff easily fits in. I would recommend Bins Skips if you are looking to hire skip bins.
P
Skip Ngunnawal
Pauline English
Thanks for an excellent service
M
Excellent service
Matthew Costello
I am very happy with the hire of the skip bin from the initial phone call to the email communication and pick up.
M
Excellent service
Matthew Costello
I am very happy with the hire of the skip bin from the initial phone call to the email communication and pick up.
N
Review
Nicholas Bailey
Good. Delivery and collection on time. We were horrified to find that overnight some low life had filled the empty bin with old tyres, tV set. baby's chair and a host of broken engine parts such that we had to unload the skip and take all that rubbish to the tip for which we were charged. It might help in deterring these scumbags if fitting tarps were supplied which could temporarily seal the skip and prevent others dumping their rubbish in a hired skip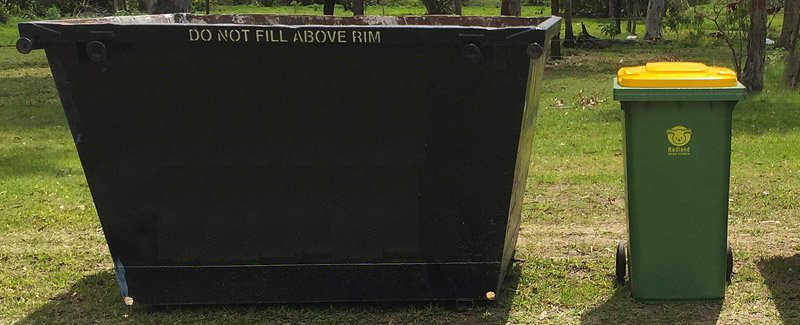 Skip Bins Canberra for delivery to Gordon, Wanniassa and Kaleen
Got loads of rubbish to get rid of? Let Bins Skips Waste and Recycling handle your commercial and household waste through our range of the most reliable yet cheap skip bins Canberra has to offer. As the convenient place to search for the best waste skips Canberra has, our online booking system has enabled companies and homeowners to hire skips in Canberra, ACT. Rubbish removal from business and residential properties in Canberra and the surrounding areas has never been this easy, quick and safe.
Hire A Skip Bin & Help Keep Canberra Tidy
The ACT areas of Australia, including Canberra, take waste disposal seriously. If you've recently completed a spring clean, office renovation, or even a garden makeover, skip bags wouldn't have enough room for the rubbish those activities would produce. You'll have to load the items you no longer need and other discards into a skip bin. To help keep the city clean and save yourself the trouble of having to figure out how to get rid of an office or household waste, use a skip bin hire Canberra ACT trusts. Let us bring you a skip bin hire company to handle all the waste types you need help with.
Industry Leading Skip Bin Hire Canberra from Bins Skips Waste and Recycling
Come to us for a hassle-free way of handling all waste types. We have linked homeowners and business owners in different regions in Australia to the best skip bin hire companies to handle their waste disposal needs. To promote all businesses that provide the greatest customer satisfaction, each customer can provide feedback, which will be shared with other potential clients. Rest assured that you'll get quality service with the price skips are charging for rubbish removal in Canberra and areas nearby. You won't have to spend money for a service that under-delivers.
Why We Offer an ALL in One Solution for Skip Hire in Canberra ACT
We've figured there's a lot to think about when it comes to disposing rubbish and any unwanted material. To make it easier for business and homeowners looking for the skip bin hire that can best do the job, we've included in our booking system items they would consider, including the type and sizes of skip bins. Our site makes it easy for you to compare prices and find one that suits your budget. It even provides you a price quote so you'd know how much you'd be paying for the service you require. Our skip bins are available for delivery to Canberra and neighboring regions, with as little as half a days' notice.
Convenient Canberra Mini Skip Hire Solutions Ideal for House Moves
Our services are also perfect for a customer about to make a house move. If you and your family need to move out to another location, you may be leaving some mess behind. You can choose from the widest range of skip bins and mini skip bins Canberra has. Let us help you get rid of all items you don't have to take to your new home, no matter what sizes of materials, from defective washing machines to an old car. We'll drop off the right skip bin for the job. Just order the bin you need through our website. If you've got special requirements for your order, such as the delivery timing, please call us as soon as possible.
Reliable Rubbish Removal Budget Skip Hire Available Across All of Canberra
Why worry over what to do with left-over building materials and garden waste such as tree trunks and grass clippings, when there's a rubbish skip hire Canberra can provide? Whether your house clearance involves only the removal of these items or all the materials your family no longer wants, no rubbish removal job is too big or too small when you call the right skip bin company for your waste disposal needs. Use our service to see the available budget skip bins Canberra has to offer. We've made it our business to offer you the most reliable waste disposal services at a discount or with the best skip hire Canberra prices.
Cheap Skip Hire Guaranteed Bins Skips Waste and Recycling Offers the Best Prices in Canberra
You may be one of those homeowners or business owners who are doing renovations in your property. With all the work you're already doing, whether getting rid of tree trunks or segregating unnecessary materials, you'll be faced with a massive pile of waste. We can bring you cheap skip bin hire Canberra always goes to that offers services at lower than most skip hire Canberra prices. Even if the bins are offered at a discount, the cut price skips are offering doesn't mean customer satisfaction is compromised. While we can handle almost all waste disposal needs, there may be materials that are beyond our scope. For these waste types, rest assured we'd advise you on what should be done with these items as well as where to take them.
Using Our Skip Bin Company Finder
We aim to help you choose the skip bin hire you should call by providing you with all the best possible choices of skip bin services that can answer the waste disposal needs of your company or home. Choosing from our wide range of skip bins Canberra provides is even made easier through our Find Skip Bins Wizard, displayed as a form with the title 'Get Skip Bin Prices for Canberra Now' at the right side of our webpage. All you need to do is fill it out, and it would provide you with various options we have on offer for you, including the prices of each available bin to make comparison easy. Clicking on the title would also lead to a step-by-step guide in deciding on the skip bin you should order.
Find Out More About Our Canberra Skip Hire Rubbish Removal Service
Clearing your backyard? Moving house or business? Renovating your family home or office? If you've answered yes to any of these questions, you'll need the help of a skip bin hire service. The bins we can provide come in a range of sizes, between 2m3 and 15m3, ready to drop off in your location to contain the type of rubbish you need help with, be it grass clippings, tree trunks, or home and office items you no longer want. We work together with multiple depots in different areas to be able to offer the variety of services you may require, as well as to lessen the time of your search and even be able to cut price skips would often offer. For more questions on skip hire Canberra cost, including a way to cut price skips often charge, please call us and our office staff would be pleased to answer each of them.
Other Important Things A Skip Bin Company Can Help You With
We also don't back down from the challenge of disposing hazardous substances such as chemicals and even asbestos. You can call us to help you find a skip bin hire that can get the job done and would adhere to environmental regulations. Alongside knowing the number of waste transfer stations, landfills and recycling drop off points in different areas around the city, the skip bin providers are also aware of instances wherein permits are required. When it comes to the need to place skip bins on public property, for example, the providers are aware that the city would require skip bins to have a permit from the Australian Capital Territory and Municipal Services.
Skip Hire Canberra FAQ's

How much does it cost to hire a skip bin in Canberra?
Depending on the type of bin, size, area, and even the number of days you need to use them, skip bins Canberra prices can range between $230 and $1,960, and already covers delivery, collection as well as disposal. Please check our website for a price quote. We've got a skip bin hire service that offers bins in sizes between 2m3 and 15m3. We will deliver the skip bins to you even in half a days' notice.
How much does it cost to hire a mini skip in Canberra?
The smallest skip size available, a mini skip hire Canberra service can cost $230-$520. The price skips are offered still depends on factors like the type of bin, size, location and the number of days. A skip bin hire service may supply mini skips in sizes 2m3 to 6m3. There really isn't anything that differentiates a mini skip from a skip, as it's merely a marketing term than a technical definition. Mini skips are great for a small amount of waste such as one brought by home renovation.
What's the largest skip I can hire in Canberra?
Our skip bin hire service offers different sizes of skips for the disposal of various wastes. The largest skip we have is 15m3, which is perfect for managing large volumes of waste from construction yards, among others. Give us a call for more information on the skip bin hire services we have on offer. Our office staff will be happy to answer any of your questions to help you decide on which skip bin hire to use before booking with us.