Skip Bins Brisbane For Hire Anywhere Within Metro
Bins Skips Waste and Recycling Brisbane
A
bin skips
Anne Drzezdzon
bins were good
S
Worked for me
Steve Gordon
Was easy to order, arrived quick enough, and competitively priced
I
Fantastic
Iman Qleibo
The company is easy to deal with, we had terential rain had to delay the bin a week. They were happy to postpone with no fuss. Thank you skip bins
P
21 Theale Terrace 4060
Peter O'Donnell
Delivery and pick up was done without incident.

When I asked office if pick up could delayed from Friday to Saturday I was told they don't pick up on weekends. It would be Monday and it would be an extra $45 for the three extra days. I remonstrated about being charged the for three days instead of one day.
I suggested she check with management. Management confirmed $45 was correct.

I requested my details be removed from your data base

K
Excellent service
Kelly Murdock
Ordered the bin online. Very easily done. Delivered and collected on time. Very good price.
S
Great Service
Sasa Diric
The lady who took my booking was very helpful, even providing me with a copy of the invoice via SMS. The whole process was very efficient. I booked the Asbestos bin one day. The bin was delivered the next day and picked up the day after. Great to be rid of the asbestos so quickly.
J
No dramas
Joel Martin
Delivered and picked up as promised and without hassle.
Online service is great. Good functionality and emails kept me informed. I would certainly use you again.
J
No dramas
Joel Martin
Delivered and picked up as promised and without hassle.
Online service is great. Good functionality and emails kept me informed. I would certainly use you again.
J
No dramas
Joel Martin
Delivered and picked up as promised and without hassle.
Online service is great. Good functionality and emails kept me informed. I would certainly use you again.
K
Easy Peasy!
Kylie Ash
The entire process was seamless. From being able to ask questions on line, booking, payment and drop off and collection of the bin was so easy.

Really friendly team members and very accommodating.

The reminders and communication was awesome throughout the week.

Thank you so much!
L
contact person
Lyn Shaw
I found the receptionist to be pleasant and accommodating. Service was good.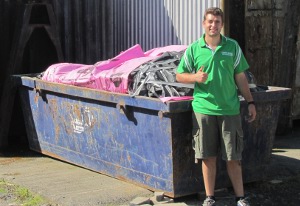 Skip bins in Brisbane may be hired online through our website. At our website we offer you a fantastic selection of skip bins in Brisbane for delivery to both the northside and southside. These services are provided by partner service providers and because we focus on positive consumer feedback, you know our services are reputable. This means that no matter what you need in terms of skip hire in Brisbane, whether for a garage clean out or a renovation, Bins Skips' is the place to find your skip hire Brisbane. It's easy to book and pay for hiring a skip bin in Brisbane on our website, it takes just 4 easy steps. So when you need a skip, Bins Skips' is your one stop shop for all your skip hiring and skip bins Brisbane northside and southside needs.
Call Bins Skips today on 07 3503 6769 and get the right rubbish skip from the largest range of skips in Brisbane.
Skip bin Sizes Available in Brisbane
We have an exceptional range of skip bin hire services available for our customers in Brisbane including:
2m3 — 1.50mW X 1.50mL X 1.00mH
3m3 — 1.60mW X 1.90mL X 1.00mH
4m3 — 1.70mW X 2.50mL X 1.00mH
5m3 — 1.50mW X 3.00mL X 1.20mH
6m3 — 1.70mW X 3.20mL X 1.10mH
7m3 — 1.70mW X 3.64mL X 1.20mH
8m3 — 1.70mW X 3.40mL X 1.40mH
9m3 — 1.70mW X 3.80mL X 1.56mH
10m3 — 1.80mW X 4.00mL X 1.50mH
12m3 — 1.80mW X 4.60mL X 1.50mH
30m3 — 2.35mW X 6.00mL X 2.40mH
Many of our bins come equipped with doors or ramps for easy access when loading the bins with your waste. Call today and our staff will help you find out more and get the best skip bin to hire for your job.
Asbestos Disposal in Brisbane
Brisbane City Council transfer stations no longer accept asbestos materials from the general public. This measure was introduced to help ensure that residents and employees at these transfer stations do not put themselves at risk by handling waste that contains asbestos fibres. Brisbane residents can dispose of asbestos using skip bins from Bins Skips'. Use our website to find the asbestos waste skips in your suburb. The asbestos to be disposed of in one of our skip bins for Brisbane needs to be wrapped in two sheets of 200 micron builders plastic and sealed with tape, so that they are airtight. This avoids airborne asbestos fibers being blown into the air.
Other ways to get your Rubbish Removed in Brisbane
There are 2 basic alternatives to the use of skip bins when disposing of waste in Brisbane. These are:
Using a rubbish removal company
Take your waste to a transfer station or landfill tip.
In Brisbane there are many rubbish removal companies who can come and help remove your rubbish. These businesses are especially good if you need help to get the rubbish out of your flat or apartment. In the Brisbane CBD there are more than 50 businesses ready to help.
If you are more of a DIY person, Brisbane City Council operates four transfer stations (rubbish tips), resource recovery centres, tip shops and a landfill site to manage the waste and recycling needs of Brisbane residents. Brisbane Ratepayers receive 5 vouchers to dispose of up to 100 kg of waste free of charge and a further 5 vouchers for green waste disposal. This equates to about 1 tonne of waste a year which is roughly about the same as a 5 or 6 cubic meter skip bin or the same number of 6x4 trailer loads of household waste. There are quite a few rules and regulations about the use of the vouchers which you can find here on the councils website.
Brisbane Skip Bin Permits
Brisbane City Council only requires a permit to place a Skip Bin on a footway (or nature strip) if your answer is yes to any of the following three questions:
Will the Skips be on the footway for more than 48 hours?
Will the Skips fully obstruct the footway and/or require pedestrians to walk on the road or take an alternative path?
Will the Skip bin be on the footway or on a main road or within the CBD?
If you answer yes to any of these questions then you will need to get a skip bin permit from Brisbane City Council. Brisbane City Council supports work on Council property such as roads and footways when this is required as part of construction work or business operations like the placement of a skip bin on the footpath for construction waste removal. Council regulates these activities to ensure public health and safety and issues permits to regulate these activities. Council considers placing a skip bin on their property as a "Deposit equipment and materials on the footway".
Forest Lake Front Lift and Skip Bins