Skip Bin Hire Brisbane | Rubbish Removal Forest Lake to Wynnum Skip Hire
Bins Skips Waste and Recycling Brisbane
J
Great service
Jeffrey Briant
Haves twice - great service helpful staff - happy to explain the options and details over the phone
J
1 Piari St Kenmore
John Muldoon
The phone guy was knowledgeable and courteous. He organised the skip for ASAP and it turned up on time
J
1 Piari St Kenmore
John Muldoon
The phone guy was knowledgeable and courteous. He organised the skip for ASAP and it turned up on time
C
Excellent
Chris Hammond
Easy trouble free transaction
R
Fantastic
Rebecca Bak
So easy and fuss-free
J
Mt Ommaney Bin
Jan Lauder
Delivery & collected on time.
J
Good service
Jim Danaher
[I would] Recommend the service [to family and friends].
A
Very satisfied
Andrew McGowan
Great service, courteous and clear communication, bin delivered on time, placed where we wanted it and picked up on time. Good value and generous weight limit meant no unexpected extras.
O
Efficient service
Olivia Dyer
Bin was delivered on time, picked up on time. Very easy:)
D
Bins Skip Waste
Douglis Weis
Very happy with the complete service from the organising people in the office to the delivery and pick up man. Everything was done as scheduled.
T
Easy transaction
Tegan Schmuttermaier
They dropped the bin off and picked it up without a problem. The only thing I felt I needed to mention was their level of customer service. Given I wasn't home when the bin was delivered, there was no notification of delivery. It would have been nice to receive an sms or email advising the bin had been delivered. Also when I phoned to find out if the bin had been delivered, the guy who answered the phone didn't come across as helpful. He almost sounded amused that I called. So yes, easy transaction but customer service needs to improve.
Skip Bin Hire Brisbane where you can Find and Book Skips Bins Online
Skip Bins in Brisbane are as important to us as they are to you. That is why we offer competitively priced skip hire Brisbane wide, in all metropolitian suburbs including Forest Lake, Sunnybank Hills, Calamvale, Brachen Ridge and a lot more. So whether you are in Runcorn, Ashgrove, Innala, Indooroopilly or New Farm you will find it easy to find a great choice a
Skip bins in Brisbane may be hired online through our website. At our website we offer you a fantastic selection of skip bins in Brisbane for delivery to both the northside and southside. These services are provided by partner service providers and because we focus on positive consumer feedback, you know our services are reputable. This means that no matter what you need in terms of skip hire in Brisbane, whether for a garage clean out or a renovation, Bins Skips' is the place to find your skip hire Brisbane. It's easy to book and pay for hiring a skip bin in Brisbane on our website, it takes just 4 easy steps. So when you need a skip, Bins Skips' is your one stop shop for all your skip hiring and skip bins Brisbane northside and southside needs.
Brisbane Skip Bins are Available in many Sizes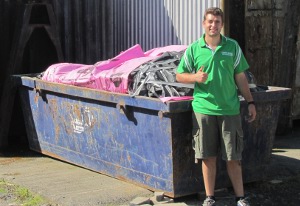 We have an exceptional range of skip bin hire services available for our customers across the Brisbane metropolitan area and South East Queensland. Our range of bins is extensive, and as the Queensland government intorduce waste levies again the choice of different waste types will provides homes and businesses with and even greater choice of services. Our bin sizes range from small two cubic meter mini-skips up to 40 cubic meter hook-lift bins delivered on semi trailers. And between this different size bins we have plentry of choice in both size and style (or type) of bins. We have many depots that deliver Marrell skip bins that are loaded on and off the turcks using chains (to each corner of the skip bin) and dual rotating hydraulic arms that lift the bins on and off the back of the truck. We also have a number of depots that provide services with hook lift trucks. Below are some photos of both Marrell Skip Bins Marrell Skip Bin Trucks and also Hook-Lift trucks and their bins.
Marrell Skip Bin Trucks & Bins

| | |
| --- | --- |
| | |
| | |
| | |
Many of our bins come equipped with doors or ramps for easy access when loading the bins with your waste. Call today and our staff will help you find out more and get the best skip bin to hire for your job.
Service Area for Skip Bins Brisbane
Brisbane skip Bins are delivered to all suburbs of the Brisbane Local Government Area (other than those out on Moorton Island). Brisbane skip bins provides services in over 170 suburbs. Here is the list of the top 50 suburbs:
Suburb
Postcode

SUNNYBANK HILLS
CALAMVALE
BRACKEN RIDGE
THE GAP
CARINDALE
EIGHT MILE PLAINS
INALA
RUNCORN
ASHGROVE
WYNNUM
ST LUCIA
NEW FARM
WYNNUM WEST
INDOOROOPILLY
NUNDAH
ASPLEY
MANLY WEST
MT GRAVATT EAST
ANNERLEY
CAMP HILL
CARINA
PARKINSON
TOOWONG
TARRAGINDI

4078
4109
4116
4017
4061
4152
4113
4077
4113
4060
4178
4067
4005
4178
4068
4012
4034
4179
4122
4103
4152
4152
4115
4066
4121
Suburb
Postcode

WISHART
CLAYFIELD
MORNINGSIDE
MOOROOKA
CHAPEL HILL
WAVELL HEIGHTS
CARSELDINE
BARDON
BRIGHTON
WEST END
KEDRON
CHERMSIDE
UPPER MT GRAVATT
BOONDALL
ZILLMERE
KENMORE
GREENSLOPES
EVERTON PARK
MANSFIELD
SUNNYBANK
PADDINGTON
MITCHELTON
TARINGA
OXLEY

4122
4011
4170
4105
4069
4012
4034
4065
4017
4101
4000
4031
4032
4122
4034
4034
4069
4120
4053
4122
4109
4064
4053
4068
4075
Permits for Brisbane Skip Bins
Brisbane City Council only requires a permit to place a Skip Bin on a footway (or nature strip) if your answer is yes to any of the following three questions:
Will the Skips be on the footway for more than 48 hours?
Will the Skips fully obstruct the footway and/or require pedestrians to walk on the road or take an alternative path?
Will the Skip bin be on the footway or on a main road or within the CBD?
If you answer yes to any of these questions then you will need to get a skip bin permit from Brisbane City Council. Brisbane City Council supports work on Council property such as roads and footways when this is required as part of construction work or business operations like the placement of a skip bin on the footpath for construction waste removal. Council regulates these activities to ensure public health and safety and issues permits to regulate these activities. Council considers placing a skip bin on their property as a "Deposit equipment and materials on the footway".