Epping Skip Hire in Whittlesea; Skips to your door in Doreen, Bundoora & Lalor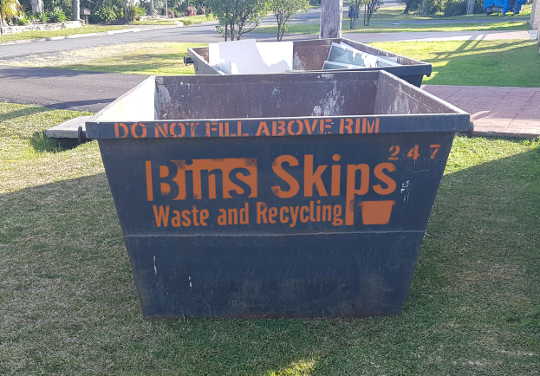 Bins Skips Waste and Recycling have wonderful waste skip bins available for hire in Whittlesea. We can provide a choice of both skip bins and hook-lift walk-in bins across the city from Epping 3076 to Thomastown 3074, and Mill Park 3082 to Wollert 3750. Our aim is simple, to provide the greatest choice of skip hire services in Bundora 3083, South Morang 3752, Lalor 3075, Doreen 3754, Mernda 3750, and yes, Whittlesea 3757. For us, choice is about a great range of skip bin sizes (and bin types), for as many waste type as possible.
General light waste skips bins are available in sizes from 2.0m³ to 30.0m³ (the 30.0m³ bin is actually a hook-lift walk in bin that is suitable for large projects like clearing hoarders house, bush clearing and commercial jobs. (shopfitting, warehouse management and internal office demolitions). For heavier waste the size of bins is reduced due to the limitations of weight that can be lifted and hauled on public roads. For mixed heavy waste we have bins from 2.0m³ to 12.0m³ available as far out as Mernda, Doreen and Wollert.
In the southern and central part of the shire we have over fifty general light waste services alone. These services are delivered from partner depots throughout the shire (in Doreen 3754, South Morang 3752, Whittlesea 3757 and Epping 3076). Reflecting the rural nature of the northern region, there are twenty plus green waste services for people who might have large or small garden projects. So whether it just be pruning the garden at the end of summer, removing trees and bushes that are no longer wanted or landscaping the whole garden to given your home a new outlook we have a bin that will meet your needs.
The greatest benefit of hiring skip bins in Whittlesea is that you can get a bin delivered at short notice (very often the same day or next day) when you want it and you don't need to have bulk transport facilities like a trailer, UTE or truck. You can also spend you time focused on your job at hand and not having to waste time driving around, to and from a land-fill site or transfer station.
What to know about City of Whittlesea Council rules for Skip Bins
Council do not want you to place skip bins on their property without first obtaining a Skip Bin Permit. That means you should not have a skip bin or hook-lift bin placed on a road, the nature strip or any other land unless you have a permit.

Now even if you have a skip bin permit the council would like you to know they don't want you to leave the bin on their property for any longer than absolutely necessary. Please put the skip bin in the agreed/approved location as per the permit and not randomly elsewhere.

The council are keen that the contents of the skip bin should not be toxic, offensive or odorous. Not only will you neighbours dislike you smelly bin but Council and ourselve won't be impressed.
Whittlesea Council alternatives to be considered before Hiring Skip Bins
Whittlesea Council provide a number of alternatives to hiring an Epping skip bin that will help save you money, if that is important for you. Here is a short informative video from the City of Whittlesea to help you lear about their services.
The council operates a number of voucher based waste and recycling services that are offered to ratepayers. The vouchers can be found on the annual rates notice and provide disposal services for:
Hard waste
Green waste
Timber Waste
All of these services require householders to self transport their waste to the council tip site at Wollert.