Skip Bin Overview
What is a skip bin for?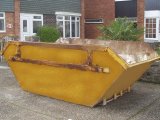 A Skip bin is a large metal container used for the removal of bulk loads of rubbish. The container needs to be made of a heavy metal construction as it can be used for the removal heavy and hard materials. Materials like bricks, concrete, rumble and rock which would deform, disfigure or destroy flimsier containers. The skip bin is most often used where the rubbish is created from a project such a renovation or a building activity that create waste as a result of work. Such projects create a lot of waste that need to be removed in one or more loads which can not be place in regular municipal waste services.
How will I know a Skip Bin when I see one?
Typically skip bins have a distinctive shape, the longitudinal cross-section of the skip bin looks like one or two trapezoids sat one on top of the other. The lower trapezoid has the smaller edge at the bottom of the skip bin, and a longer edge at the top. Where there is an upper trapezoid, it has the smaller edge at the top. At either end the skip bin there is a sloping floor or wall. On either side of the skip bin there is usually two lugs onto which chains can be attached. It is using the chains attached to the lug that allows the heavy skip bin to be lifted on to, or off of a truck.


Skip Bin History
The history of the skip bin is some what murky. Some say, the skip bin originates in the UK in the 1970's. Richard Biffa introduced the skip bin into his waste business as it diversified into the general commercial waste area, having started out servicing power-stations in the London area removing their waste output. Biffa has since become one of the largest waste management companies in the UK and the skip bin has become available and in use around the world.


Skip bin sizes
Skips come in a range of sizes from 1-cubic metre up to 15-cubic metres. And although many skip bin providers list that they have larger bins, it could be disputed whether they are actually skip bins as they tend to be different shapes (purely rectangular) and they are delivered and picked up by a different type of truck known as a hook lift (so might be better classified as big bins).
Skip Bin Uses
Although there are some interesting photos of skip bins being used as swimming pools, bus shelters and skate board parks, skip bins are generally used to remove waste. Skip Bins are used by skip bin hire operators to offer waste removal services. Most commonly skip bins are used to hold open topped loads of waste. The waste is often generated from building, renovation or demolition activities and the skip is the disposal method of choice as they are easy to fill. Skip bins are also used for a range of cleaning or clearing out activities for commercial, industrial and residential purposes. From an industrial perspective the skip bin provides a convenient disposal method for cleaning factories and getting rid of scrap metals.
Authored By:

Steve Shergold

Published:

12/07/2010