Skip Bin Hire Kingborough for skip bins delivered to Kingston
Skip Bin Hire >> Tasmania >> Kingborough
G
Great service
Graham Openshaw
Easy to organize, good support and spot on timing.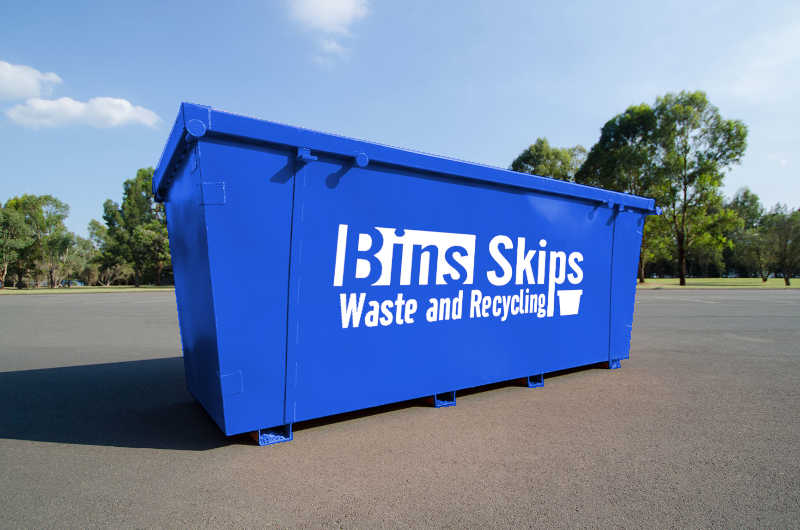 Frequent Questions about Kingston Skip Bins
What bins sizes are available for rubbbish removal in Kingston?
There is a great choice of skip bins in Kingborough that include:
Mini Skip Bins - These bins are smaller bins that are 2 to 4 cubic metre in size. Mini skip bins are popular for rubbish from spring-cleaning, small bathroom renovations and green waste from cleaning up the garden

Marrell Skip Bins - These skip bins range in size from 2 to 12 cubic metre in size. Marrell skip bins are delivered on skip trucks that have the Marrell lifting system (the two hydraulic arms on either side of the back of the truck)

Hook Bins - Hook bins are often larger bins user for bigger commercial and professional projects like shop fitting, deceased estates, warehouse rubbish removal etc. Hook bins are most often between 6 and 20 cubic metre in size. Hook bins are delivered by hook lift trucks that have a single hydraulic arm that load/unloads the bins on and off the truck. Hook bins are often considered as large skip bins.
What types of rubbish can be place in Kingston Skip Bins?
All type of rubbish can be placed in our range of skip bins including general waste, house-hold rubbish, office and business rubbish, materials for recycling like concrete and bricks from construction, building waste and rubble, landscaping waste, green waste, soil and clean-fill. To make it easier to select the right bin for the rubbish you have we have categorised the waste that can be placed in our bins. The waste type categories are:
Heavy general waste skip bins are for any mixture of waste that is going to include heavy materials like bricks, concrete, sand and soil. These materials are considered heavy as they weigh in excess of a tonne per cubic meter. The Heavy general waste skip bins can also include Light general waste

Light General waste skip bins are for lighter materials like furniture, white goods, clothes, furnishings, toys, bikes, green waste, etc. Light general waste usually weighes about a tenth the the heavier version and is about 150 kg per cubic metre

Green waste skip bins for organic materials from you garden like grass clippings, tree trimmings, branches, shrubs, plants, weeds etc

Brick and concrete recycling skip bins for all sorts of products like pavers, bricks, blocks, roof tiles

Clean-fill skip bins are for soil and dirt that has been excavate (sometime known as VENM virgin excated natural material
Is there an easy way to find and book skip bins in Kingston and surrounding suburbs?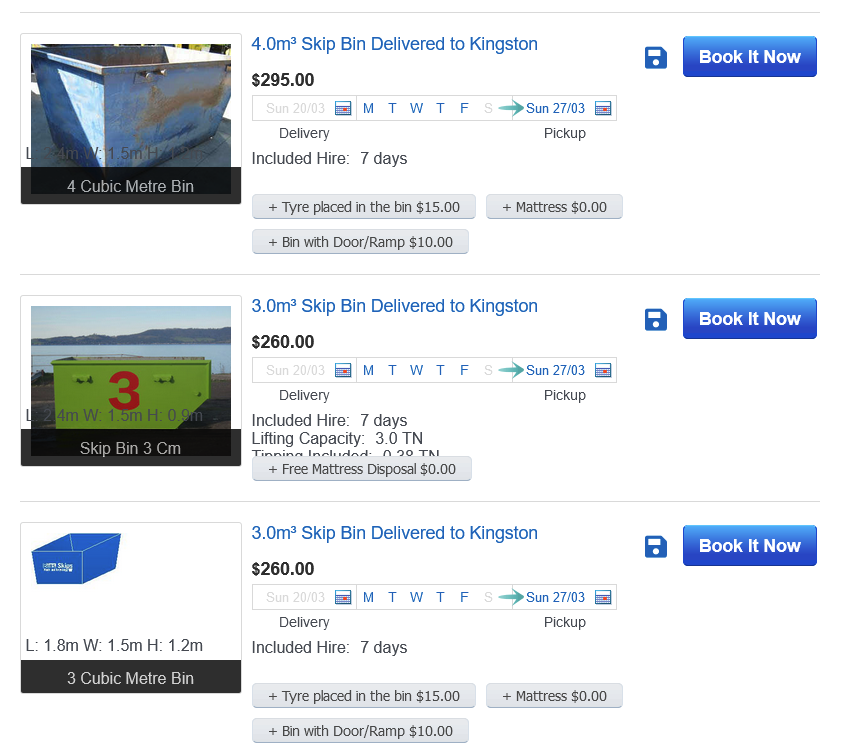 Yes. If you are looking for a profiessional, prompt, reliable skip bin service, great service then we are keen to help you. By completing the Get prices instantly panel to the top right we will give you a short list of skip bin services that have information not only about the service but also what other customers reported back on those services. All you have to do is enter the suburb where we are to deliver, the volume of waste in cubic metres and the category of waste you have to dispose of. Click the button and you will get you short list of rubbish removal options. The mini calendar shows when the bin is available for drop off.
From the Skip Bin hire short list we present you details about: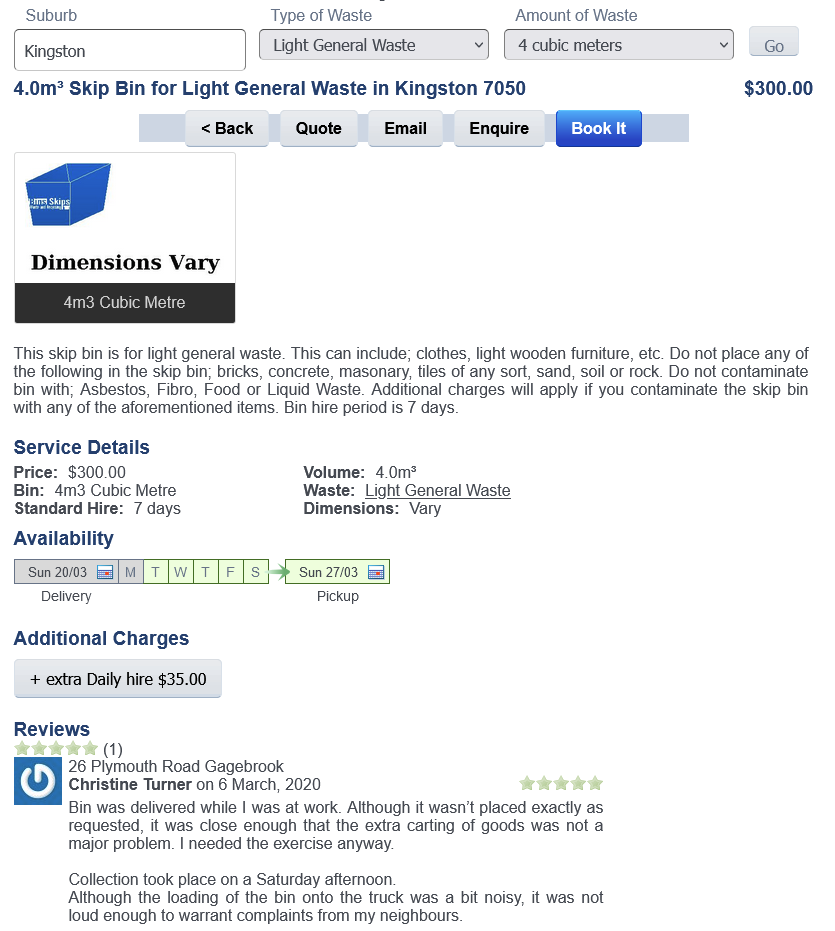 Is same day delivery available

The price of additional items like a mattress, tyres, a gas bottle etc

Dimensions of the skip bins

The skip bin hire service description describes what is covered, what can be place in the bin and any exceptions for things like gas bottles
There is more information about the skip bins serevice that are revealed when you click on the bin photo or diagram. Your can select delivery date and pick-up date. You can read reviews from other customers of the services to find great service. You can send a free quote to yourself, a friend or a work colleague. You can also book and pay for the bin right now (yes without a phone call). If you want help you can also phone our friendly team.
Does your skip bin hire rubbish removal service need a council permit?
If you have the skip bins placed on your property then you don't need a council permit. Only if you want the bin placed on council property like the nature-strip, drive cross-over or road will you need a permit and the headache of organising one. Permits are available for up to a 6 week period. Normally people only put bins on council property when there is insufficient space on their property. It is always best to put the skip bin on the drive or in the yard. Our professional drivers will try to fulfil your request as long as it is reasonable.