Skip Bins & Skip Hire in Waroona
Skip Bin Hire >> Western Australia >> Waroona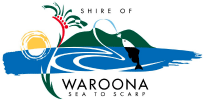 Finding Skip bins in Waroona shire can be hard as there are no locally based skip bin companies. Skip Bins are generally provided by Mandurah Skip Bins companies or business located much further south who are prepared to travel north for the additional business.
Bins Skips Waste and Recycling have 3 or more partners who service the Waroona area. Our partners provide an excellent choice of skip bins and services in this beautiful regional area and are very focused on positive customer feedback. The range of skip bins sizes currently to residents of Waroona, Hemel etc range from 2 cubic meters to 10 cubic meters.
Waroon skip bins may be hired online through our wonderful website where we offer you a great choice of skip hirin Waroona. the skip bins we offer are ideal for a garage clean out or a renovation, re-styling the yard or cleaning up after a building project. BSW&R is the place to find your skip bin in Waroona. To book and pay for hiring a skip bin on our site takes just 4 easy steps. So when you need a skip, BSW&R is your one stop shop for all your skip hiring and skip bin needs in Waroona.