Bins Skips Waste and Recycling Joondalup
T
Outstanding
Tom Everett
The team was fantastic over the phone. They were flexible and patient. The service overall was great.
T
Great Service great price
Todd Taylor
no hassle, no fuss.
same day bin drop off
very easy to work with
what more could i ask for
thanx heaps guys
D
Dianne Hollis review of Bins Skips
Dianne Hollis
I was very impressed how quick the delivery of the first 3 cubic bin was.The gentleman who delivered the bin was very courteous and helpful. I then organised for a 4 cubic bin with similarly pleasant results. The cost was reasonable, booking staff pleasant and helpful and delivery options extremely flexible in meeting client delivery requirements.

Will recommend in future.

Dianne Hollis
V
Skip Bin
Vicki Mcevoy
Fantastic Service from the first phone call I was told the bin would arrive early on the Tuesday morning and It did ..then picked up when indicated ...Very happy with your service will be using again in for future projects and will be recommending your bins to my friends .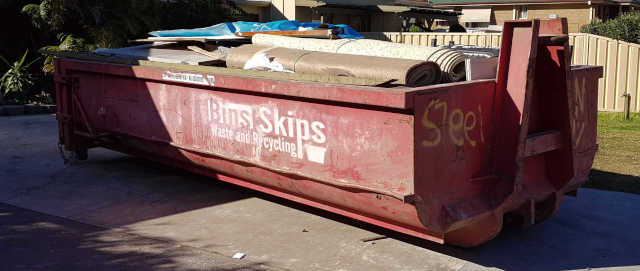 Skip Bins Joondalup delivers to Duncraig, Kinross & Surrounding Suburbs
Joondalup Skip Bins and Hook-lift Hire are ready for your call. Want the greatest choice of skip hire choices in one place for Joondalup skip bin hire. Then Bins Skips Waste and Recycling is the website for you. We have more than a 1,000 skip bins services in the Joondalup region waiting to be found and booked online by people like you. These are Joondalup skip bins for General light waste, for Heavy general waste that contains heavier waste like bricks and concrete, sand and soil, or recycling bins for brick, concrete, green waste or timber.
How to Book Skip Bins for a suburb of the City of Joondalup
To book Skip Bin Hire Joondalup is simple completing the three fiedls in the Get Prices panel and clicking the button. This will give you a shortlist of services for your suburb and waste type. All the details of the skip bins and the services can be viewed by clicking on the skip bin photo, diagram or service title. The details of the skip bin service highlights what waste materials can be placed in the skip bin. Booking online is very efficient for customers to both book and pay.
Skip bins in Joondalup may be hired online through our site where we offer you the greatest choice of skip hire in Joondalup. We deliver to all suburbs in Joondalup with frequent deliveries to our most populous suburbs including:
Suburb
Postcode

Duncraig
Kinross
Woodvale
Padbury

6023
6028
6026
6025
Suburb
Postcode

Ocean Reef
Currambine
Mullaloo
Craigie

6027
6028
6027
6025
Frequently Asked Questions for Skips Bins in Joondalup?
Is it possible to get fast delivery and/or same day service for Joondalup Skip Bins?
Why yes we are always happy to try to provide a prompt service wherever possible. Our friendly service staff are available to help customers and if you would like to get a timely delivery then we will try to get one for you. We just ask that where you are able to call us to request same day delivery (preferably as early as possible). Give us a call to oorganise a prompt delivery.
Is it possible to get an instant quote for a Joondalup skip bin?
To get an Instant quote just complete the 3 fields of information in the get prices instantly panel, click the button to get a shortlist of services that match your needs. You can then send a quote for any or all of the skip bins prices to any email you like.
When planning to do a massive clean what size skip bin will be needed?
We have an extensive range of skip bins Joondalup available for hire. The extensive range starts at 2 cubic meters and stretches to all the way up to a massive 30.0m³ Skip Bin for Light General Waste in Joondalup 6027. We also have many skip bin sizes in between that are available at competitive prices. If you need help to work out what bin size you need, call our friendly staff who are ready to help get a bin delivered.
What rubbish and waste type can be placed in Joondalup skip bins?
We offer extensive skip bin hire services for all types of rubbish and waste materials including household rubbish, furniture, white goods, green waste, building materials, clean-fill (soil), timber, plaster (and at a great price too). To make it easier to hire skip bins in Joondalup we categories the waste disposal types that can go in the binsas follows:
Light General Waste skip bins for household rubbish, furniture, white goods, green waste, old toys, cloths, linen etc
Heavy general waste skip bins for mixed waste that includes heavire materials like bricks, concrete soil, rock, tree trunks and tree stumps
Green waste skip bins for plant cuttings, tree trimmings, grass clippings and similar
Asbestos skip bins for sheets and corrigate asbestos
Brick and Concrete Skips Bins
Clean Fill Skip Bins for VENM (Virgin Excavated Natural Meterials) which are clean soil and dirt.
Do the City of Joondalup have restriction on where skip bins can be place on their property?
The City of Joondalup are happy for residents to organise skips to fulfill their waste management needs and have them placed on the verge. The City of Joondalup like skips bins so much that they offer bulk waste collections using them. So you could say Skip Bins come highly recommended by the city of Joondalup.