Skip Bin Hire Melville do Skip Bins to Palmyra, Bicton, Applecross & Mount Pleasant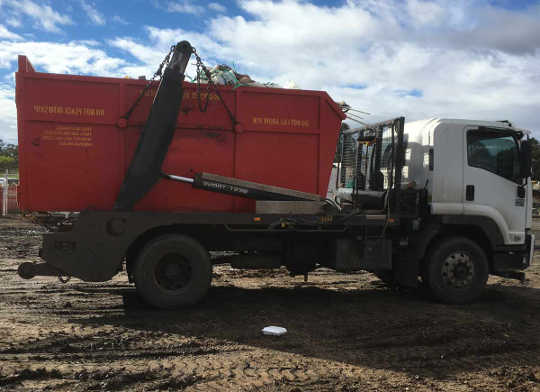 Commercial and Residential skip bin hire in Melville & other local suburbs
Skip bins in Melville are plentiful as the area is just south across the Swan River from the Perth central business district. There are Perth Skip Bin companies based in Melville and then there are even more Perth skip hire companies that service the whole of Perth including Melville.
We estimates that there are in the region of 50 or more Perth skip bin companies who will deliver skip bins to you in this region of the Perth metropolitan area of Western Australia. This means there are a plethora of bin sizes available (many locally owned).
The challenge for customers looking for Perth skip bins in Melville is to find the local suppliers who are best placed to deliver skip bins to them for rubbish removal and other waste solutions. Bins Skips have a great range of skips and bins available in Melville with 10 sizes of bin available for 8 different types or categories of waste.
To Find Perth Skip Bins in Melville use the "Get Instant Prices" search panel (quote form) to the right and enter the suburb in Melville where you want the skip bin delivered. Select the type of waste materials and the volume of waste and click search to get your short list of available local skip bin hire services. From the short list it is possible to send an online quote or book the bin online using our ordering pages is an easy process. In fact we like to think this process easy enough to be considered childs play for any skip bin hire business.
Frequently Asked Questions about Skip Bin Hire Melville WA 6156
How do you work out what size skip is needed for waste removal?
The volume of rubbish removal needed drive what size skip bin is needed. So to work out what skip size you need calculate what the voulume of your waste will be when placed in the bin. Now this sounds simple and you just need to be aware of the nature the waste type when place in the bin. For example when you dig soil up and put it in a skip bin the volume increase from when it was in the ground. This occurs because you are introducing air into the soil, when it had been compacted when in situ.
The simplest way to estimate the volume of waste is to compare it to the volume of something you are familiar with like a wheelie bin or the contents of a standard 6 by 4 trailer. Usually a wheelie bin is either a quarter or a third of a cubic meter (if the wheelie bin is 320 litres or 240 litres which is usually printed on the bin). The standard 6 by 4 trailer which level loaded to the rim of the trailer is equal to about a cubic meter of waste. So if you think you might have 6 trailer loads then you will need a 6 cubic meter bin.
For general light waste we have a skip bin size calculator that calculates the volume of a pile of rubbish (which is similar to the shape of a cone). So you enter the dimensions of the pile (length, width height) and we calculate the volume in cubic meters. But do remember there is more to size when ordering a skip bin as you might need a door or walking bin for hassle free loading.
What skip bin sizes are available in Melville?
Surprise, surprise we have a great range of skip bins and hook bins available in Melville wa 6156 and surrounding suburbs. We have mini bins or mini skip bins, normal Marrell (chain lift) skip bins and hook-lift bins. These range in size from 2 cubic meters through to a 30.0m³ Skip Bin for Light General Waste in Melville 6156. The larger bins are usually considered commercial bin hire and get order for delivery to industrial units So even though bin size isn't everything, it is important and we have you covered.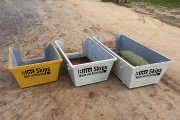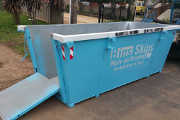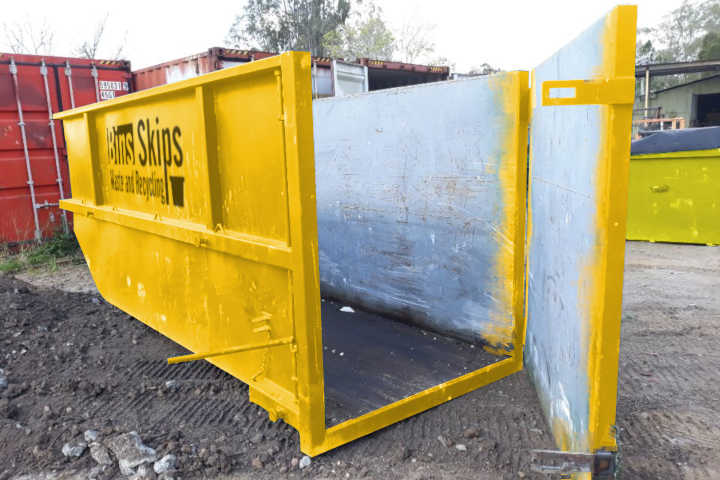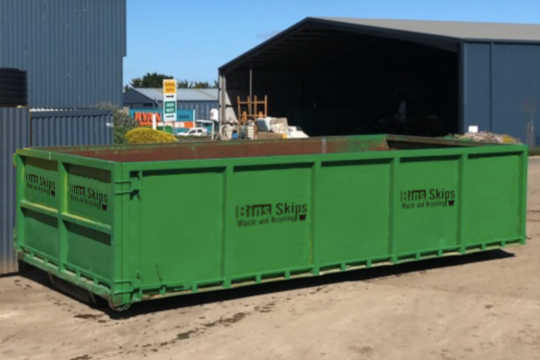 What waste type is needed for doing a bathroom or laundry renovation?
We often get asked about what sort of skip bin is needed when doing a bathroom, kitchen and laundry renovation? Waste disposal isn't rocket science, it is just the application of some simple basic ideas to select the best waste type for your bin. We have all the normal waste categories like Light General Waste, Heavey General Waste, 100% Concrete for recycling, Green waste and so on, so we will always try to recommend the bins size and style of bin for your specific job.
The questions arise around waste solutions for bathrooms, kitchens and laundries usually because there are tiles and other heavier materials like porcelin or vitreous fittings (such as baths, basins, sinks, toilets) as well as light materials like wood, MDF, hardboard and Masonite. For waste removal of the heavier items you need a Heavy General waste bin (even if there is only 1 or tiles). If you think you have a waste problem and need help call friendly for reliable skip bin hire advice.
For most bathroom renovations many builders, tilers and plumbers order a 3 cubic meter skip bin for the average small bathroom. Laundries would be about the same and kitchens may need slightly larger bins to accomodate laundry or kitchen cabinets and cuboards.
One last thing to not about bathroom, kitchen and laundry renovations is that if you have an older house you should be aware that asbestos might been used in the wet areas behind the tiles. If you find astestos you can not put it in a general waste skip bin you need a special astestos removal skip bin.