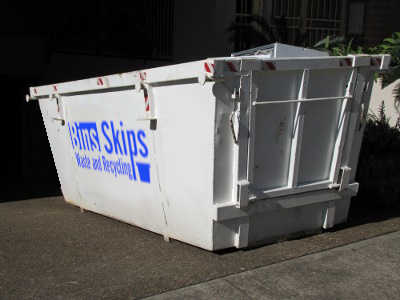 Skip Bin Hire Moreland Delivering to Coburg, Brunswick, Glenroy & Fawkner
Lots of Skip Hire services for Coburg, Brunswick, Glenroy, Pascoe Vale, Fawkner (and more) can be found quickly and easily here at the Bins Skips Waste and Recycling's website. Our aim is to give you the choice of Bulk waste services that you deserve. Living in the populous City of Moreland you have plenty of services available. There are more than 90 different General Light wasste services available for you to choose from. At the bottom of the service range there is the standard mini-skip bin which are good for small household clean-ups. The mini-skip holds about the same volume of waste as 2 standard (6 by 4) trailers or about 6 or 8 whelie bins (if they are either 320 or 250 ml wheelie bins). This bins get used for a broad range of waste types from just ordinary plain houshold waste, but also for heavy wastes like bricks, concrete, soil, sand and aggreegates (rocks), or a mixture of them all.
In Moreland we have one of the broadest range of walk-in bins that include both Marrell skip bins with drop down doors and hook-lift bins with rear opening ends. These walk-in bins start at 3 cubic meters in size and grow from there. All the way up to big hook-lift bins that are 31m³ in volume. The largest skip bin available is a 12m³ Marrell Skip Bin with rear barn doors.
Finding the options is simple. All you need to do is complete the "get Prices Instantly" panel with 3 peices of info. Enter the suburb where you want the bin delivered the volume of waste you need to get rid of and the type of waste you have. Click on the Get Prices button and you will have you shortlist of services in seconds. Then you get to do your choosing.
Using Moreland City Council Property
We would alway suggect that you are best off having your bin placed on your property so you can keep an eye on what is going in your bin. Now sometimes that is not always possible and the next best place to put the bin is on council property (the road or better the nature-strip). To use the councils property you will need a Moreland Skip bin Permit which allows you to your hired bin on coucil property. Obtaining the permit is easy, all you have to do is check the box to add additional items to your bin hire and then add one skip hire hire permit to your hire. When you do this we will do all the paper work and handle the coucil. All you have to do is sit back and prepare mentally for the task of filling your bin when it is delivered.
Moreland City Council Waste Services
Moreland City Council offer residents who pay for waste service as part of their rates receive a couple of hard waste collections a year. Each hard rubbish collection allows the resident to put out one cubic meter of waste for each collection. As this is not much many residents find it more convenient to hire a skip bin when they need to do a spring clean or similar. Here is a little more infor on the Moreland City Council hard waste collections:
Frequent Questions about Moreland Skip Bin Hire
Where's an online booking system to hire skip bins?
You can book a skip bin right here on this website for delivery to all Moreland Suburbs.
What sort of wastes can be placed you mini Skip Bins?
We have bin hire for many waste types, many at the best price you will find on the Internet. The main skip bin waste types are:
General Light Waste skip bins are good for general waste from inside your home like old furniture, clothes, toys, all sorts of household rubbish, green waste, mattresses (check it there is an extra charge)
General Heavy Waste skip bins are for any mixed general waste that includes heavier materials like bricks concrete soil, ceramic tiles, roof tiles, sand, rocks, building rubbish
Green Waste for plant based waste like grass clippings, tree trimmings, clippings from plants and bushes and even unwanted mulch (although not soil, that is brown).
Clean-fill skip bins which is the industry term for clean soil that should not include plants or other green waste
Hard-fill skip bins are for inert materials like brick, concrete, aggregates, sand etc (but definitely any general waste)