Skip Bin Sizes differ but...
News > Skip Bin Sizes differ but...
Skip bin sizes and shapes vary quite a lot. The reason for this is that there isn't a single design or manufacturer. Some skip bin companies design and/or manufacture their own bins and they do this for a number of reasons. A few of the reasons we have come across include:
So that skip bins of different sizes will stack inside each other so more of them can be carried on a truck on delivery runs

So that more empty or full skip bins can be carried on the truck at the same time
So the business are easier to fill because they are longer and lower
So the bin can accommodate longer pieces of waste without the need to cut them up
So the the bin can have a door in it and retain the best strength and durability.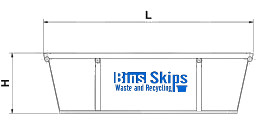 Now while there are many differing size skip bins there are some dominant Australian skip bin manufacturers and they have standard size skip bins that they make for their skip bin hire customers. To the Left are front and side elevation diagrams of the skip bins that show the typical measurements of their skip bins. The measurements are external measurements i.e. measurements from the outside of the skip bins, not the inside. This means that if you have large items to go into you skip bin you should allow a few centimeters to be sure things will fit in.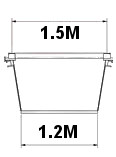 <table border="0" cellpadding="0" cellspacing="0" width="192" style="border-collapse: collapse;width:144pt">
Capacity
Length (L)
Height (H)
2 m3
1.9
0.9
3 m3
2.5
0.9
4 m3
3.3
0.95
5 m3
3.4
1.3
6 m3
3.7
1.3
8 m3
3.7
1.65
Also please remember there are only one example of the dimensions of skip bins albeit that they are probably the major skip bin manufacturing company in Australia who supply a lot of the large skip bin companies and franchisees.
Authored By:

Stephen Shergold

Published:

14/05/2015