Easy Skip Bin Hire Gosford, Terrigal, Narara & Wamberal
Skip Bin Hire >> Central Coast >> Gosford
Bins Skips Waste and Recycling Central Coast
S
Skip Bins
Sam Colussi
Great service & efficiency
T
Mr T cordery
Trevor Cordery
Very good service prompt delivery and pick-up
E
No issues
Evgeny Nikiforov
Perfectly matched my size and timeframe.
P
Collection delayed
Pavel Khmelinin
Collection requested two days after delivery regardless of planned collection after 7 days. Collection wasn't happening by request and not even after 7 days. I had to call every day to organise a collection and every day I been pushed back to next day. Even on the collection day I had a call in the morning confirming ETA at 10am, however it has been collected only after 5pm.
Please be more organised.
One thing as a plus - delivery was quick on the same day.
Y
Skip Hire Copacabana
Yvonne Harbort
Well used by tradesmen at my home
N
Great job guys
Nick Kross
Your company were very good to work with the truck drivers were both very easy to direct and nothing was a problem. Thanks also for being careful of my front yard, which was wet and soggy. I'd recommend you to anyone who asks me.
K
Great Service!!
Keith Wilkinson
Prompt friendly service, helping get the skip set up for the works we were doing. Also quickly realized early Saturday that we were going to fill the skip, phoned and a an empty skip delivered within 2 hours. Highly recommended!!
A
Bins Skips
Alice Borman
Excellent service, very friendly and helpful. I would highly recommend them
V
Excellent
Vivian Pearson
On time delivery and pick up
C
Ridgeway, Holgate
Clifford White
Service very good.
Q
Quin
Awesome service, thanks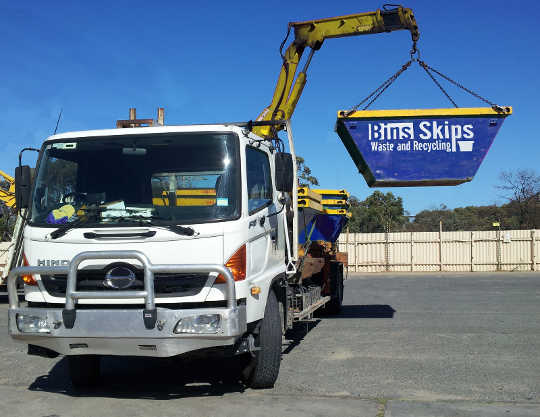 Gosford Skip Bins and Hook Bins
Skip bins in Gosford on the NSW Central Coast may be hired online through our site. The Bins Skips Waste and Recycling website offers residents of the Central Coast the greatest choice of skip hire in Gosford and the surrounding Central Coast Suburbs. These services are provided by partner skip bin companies at competitive rates and can be supplied with a day or less notice on most business days. And because we focus on positive consumer feedback, you know our partners in the Gosford, Central Coast Region will provide skip bin hire services that are reputable. So whether you need a skip to clean out a garage or clean out the shed or a even a bathroom renovation, thenBins Skips Waste and Recycling is the place for you to find your skip bin in Gosford on the bueatiful NSW Central Coat. To book and pay for hiring a skip bin on our site is simple and only takes just 4 easy steps. So when you need a skip bin head to the Bins Skips W&R and get the choice you deserve. It is a one stop skip bin shopping centre for all your Central Coast skip hiring and skip bin needs in Gosford. From our depot in Tuggerah all the suburbs on the Central Coasty are conveniently serviced most days of the week.
The Gosford skips area is part of the Central Coast skip bin hire service area which also covers the Wyong Shire and southern Macquaire Lake area.
Gosford Councils policy on the placement of Skip Bins on their property is unclear from their website. Local providers recommend that skips bins be placed on private land to ensure that no issues arise from the placement of skip bins on council land (nature-strips or roadways). Placement of Skip Bins on council roads is best avoided to minimise the hazard to traffic and pedestrians.
The are two landfil sites owned by the Gosford council one outside Woy Woy and one at Kincumber. In August 2009 the Kincumber landfill ceased to accept putresible waste at the facility. The land fill at Kincumber provides processing and recycling of only dry and inert waste. The site also continues to operate process green waste.
Frequently Asked Questions about Gosford Skip Bins
What Size Bin is needed for Rubbish Removal?
Rubbish removal is a pretty broad term and could need a bin any size from 2.0m³ to 20.0m³ depending on the job you have. Here are a few typical jobs and the sort of skip bins used:
We frequently get requests for 2.0m³heavy waste skip bins from plumbers and builders who have to do ground work repairing pipe work.

In a similar way we get planty of calls for 2.0m³ and 3.0m³ mini-skips for renovation waste from builders, tiles and home renovators who are doing small bathroom renovations

Kitchen renovations seem to use a little more room and often need 4.0m³ and 6.0m³ to get rid of all the waste cabinetry, wood and packaging from the new kitchen cabinets.
How quickly is it possible to get a skip bin delivered on the Central Coast?
We frequently organise same day skip bin delivery to many location on the Central Coast of NSW espeacially if you are located in built up areas. Such prompt service is available in suburbs like:
Point Frederick

Point Clare

West Gosford

Niagara Park

North Gosford

Mount Elliot

Bateau bay

Green Point

Lake Haven
The challange on the Central Coast NSW comes with some of the more distant locations that are often on the far side on broad expanses of water or off behind the coastal hinterland. So if you need a skip bin in some of the following locations then you should allow a day or two for delivery:
Mangrove Creek

Macmasters Beach

Hardys bay

Horsfield bay

Upper mangrove

Central Mangrove

Phegans bay

Summerland point

Ettalong beach

Forresters beach

Rocky Point

St Huberts Island

Pretty beach

Avoca beach

Kincumber south

Mangrove mountain

Pearl Beach

Lower mangrove

Daleys point