Wyong Skip Bin Hire for Gorokan skip bins to Woongarah, Lake Munmorah & San Remo
Skip Bin Hire >> Central Coast >> Wyong
Bins Skips Waste and Recycling Central Coast
G
Bins skip
Glenn Standen
Simple and easy to book
B
Skip
Bradlee Taylor
Cheers quick happy service definitely use again
B
Skip
Bradlee Taylor
Cheers quick happy service definitely use again
E
Discombe ave
Eric Sheehan
Highly recommend
J
Good service
Josh Househam
Good service
V
Very happy, would use again.
Victoria Lobregat
Makes disposing of hazardous waste much more simple by doing the registration for you.
B
Great service
Bill Prescott
Easy
K
Easy site to navigate good selections
Karen Walker-Flynn
Online booking was easy and efficient - happy to recommend again
J
Magic happens
Jo-Anne Wallace
Excellent service all the way. Beautiful reception staff who was very helpful and willing to go the extra mile.
J
Review of service from Bins Skips Waste
Jo-Anne Wallace
Exceptional service a from the reception staff to the Driver. Nothing was a problem and the process was so easy.
M
Exellent Service
Margaret Cove
Fast, Great Company 5 Stars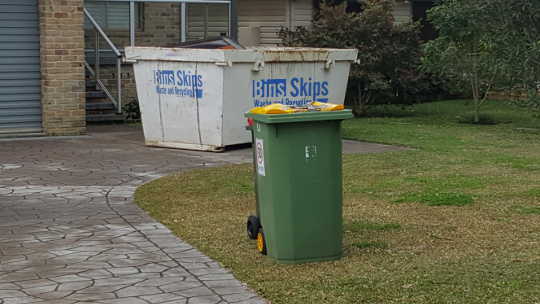 Skip Bin Hire Wyong Service Area
Skip bins in Wyong are available for hire online at our Bins Skips Waste and Recycling website. We love delivering skip bins on the Central Coast because the scenery is beautiful and the water views fantastic. We will travel anywhere in what was the Wyong Shire to deliver bin hire to deserving customers, from Bateau Bay to Gorokan, around Tuggerah Lakes to Berkely Vale, Killarney Vale & Long Jetty (the new Newtown). We service new and old suburbs, like Hamlyn Terrace NSW 2259 and Ourimbah (what was Blue Gum Flats). Through our site we offer you the best choice of skip hire in Wyong. Our partners in Wyong provide a broad rang of skip bin hire services to all corners of the Central Coast. The Skip Bins range in size from 2 cubic metres to 20 cubic metres. The skip bins re available for a range of waste types including heavy waste, mixed waste, concrete and recycling. Green bins are available and the material collect in the skip bins is sent to the local landfill site for processing. The content of Concrete and brick (masonry) skip bins are recycled in Tuggerah where they are crushed and ground to make aggregates. So no matter what you need a skip bin for, a garage clean out or a kitchen or bathroom renovation, Bins Skips Waste and Recycling is the place to book your skip bin in Wyong. To find, book and pay to hire a skip bin in Wyong, on the NSW Central Coast takes just 4 easy steps on the website. So when you need a skip, Bins Skips W&R is your one stop shop for all your skip hiring and skip bin needs on the Central Coast.
Wyong Skip Bin Sizes
The first thing to consider for the disposal of rubbish is how much and what size bin will be needed? Reputable skip bin hire businesses measure them by the cubic metre. A cubic metre is the volume of a box that is a meter tall, a meter wide and a meter long. 2 cubic metre is the same volume of two individual cubic metre boxes (not a box that is 2 by 2 by 2). A cubic metre is about the same volume as the space within a level loaded 6 by 4 trailer (that is about 325mm high). The basic bin sizes are:
2 cubic metre
3 cubic metre
4 cubic meter
Wyong Waste disposal types available
Wyong is well serviced for disposal and recycling facilities so there are skip bins available for the following waste types:
Green waste (some times referred to as garden waste) can contain organic materials like grass, plant clippings, small tree and bush branches. Please remember that soil is not considered as a garden or green waste (and not just because it is brown).
Concrete (100%)
Concrete and Bricks
Masonry (ceramic tiles, roof tiles and bricks)
Clean Fill (soil) is for clean soil (or virgin excavation material). As such it should not contain man made materials like bricks and concrete or other building wastes.
General Light Waste (Commercial, Residential, Household) - Light waste bins are a category of skip bin for lighter waste type that have a weight less than 150 Kg per cubic meter. The weight of the waste in the bins determines the cost of the tipping for a bin and is one of the factors affecting the price of the bin. When the weight in the bin exceeds what would be normally be expect there is likely to be additional charges for the extra weight. For this reason it is important to read the description of the skip bin services so you understand weight limits.
Heavy General Waste (Construction, renovation materials) is made heavy by materials like bricks and concrete that are placed in a bin. The weight of materials like bricks, concrete, tiles etc is about 10 time more than the weight of general light waste (hence the different waste type). Check service descriptions as a number heavy waste bins do not allow for soil to be placed in then.
Asbestos -
Local Wyong Rubbish Removal Background Information
The Wyong skip bin hire service area is part of the Central Coast Local Government Area. Wyong shire council on the Central coast of New South Wales manages a tip at Bottonderry NSW 2259, just north west of the town of Wyong. The Buttonderry tip has received significant recent investment for the local Wyong shire council and the New South Wales government. The Wyong shire council have also been successfull in securing funding form the New South Wales state Government for a number of initiatives inculding e-waste collections and mattress recycling. The council still charges skip bin operates for mattresses taken to their tip and the Wyong received a contribution towards the cost of recycling the inner sprung mattresses.
The Wyong Shires policy on skip bin placement on their property in the shire seems reasonably relaxed. Anecdotal evidence suggests that they have an informal attitude to the placement of skip bins on their property with it being OK as long as it does not cause conflict or interfere with traffic. The Wyong Shire website only contains no details or requirement for skip bin permits. The only reference to skip bins on the website are references to requirements by the shire is for developments to make provision for waste to be removed by skip bin.
Wyong Skip Bin businesses also service suburb south to Gosford and north to Lake Munmorah NSW 2259 Lake Macquarie, Newcastle and the Hunter.