Caboolture Skip Hire - Always Ready to Deliver when you want
Skip Bin Hire >> Queensland >> Caboolture
Bins Skips Waste and Recycling Sunshine Coast
A
Awesome
Alison Malcolm
Great service. Reasonable price.
G
Delivery of bin skip
Gary Charles
The skip was delivered on the day it was ordered for and picked up on the day it was supposed to be. Ordering the skip was a relatively easy process.
W
Excellent
Wendy La Peyre
After an initial hiccup, everything was sorted and no hassles after that.
L
Customer Review
Linda Storey
Relateable and easy for me, an aged pensioner to arrange. Thank you.
E
Morayfield
Emmy Hearn
Great service. The lovely driver who picked up the skip actually got out, picked up the cupboard that we couldn't fit into the skip, and manoeuvred the load to fit it in. Such a lovely kind thing! We would highly recommend your company!
P
Great service
Phil Lloyd
Easy to use. I had a question which was answered immediately by customer support.
I have used this several times without any issues. A great service!
G
2 x skip bins
Graham Dicker
Absolutely fantastic service & I would highly recommend them with reasonable prices & great customer service.
D
Bin Skips
Don Mulligan
Call centre person was helpful, tried to get us a bin the same day we ordered it but was unable to do so.
K
Kylee
Kylee Kenn
Great service. Prompt and professional were able to upsize our bin immediately
D
DJS Contractors
Dave Stanfield
Ordering the bin was an easy process with minimal fuss.
J
Great service
Jennifer Hagen
Five star!!
Very happy with the service. I would certainly recommend you to family and friends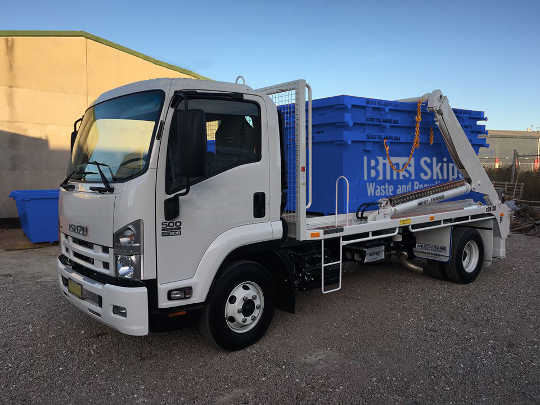 Our Caboolture skip bin hire delivery area covers the whole Moreton Bay area where we give you the greatest choice. These services are delivered by our service partners, who are local to Caboolture, and who you know are reputable because we focus on collecting positive feedback. No matter what your job in Caboolture, Bins Skips' has the right service to meet your needs. Whether it be a tidy-up or bathroom renovation we can supply the right size skip bin to you in Caboolture. Make booking you next skip hire in Caboolture easy and use Bins Skips', your one stop shop for all things skip bin.

We can deliver skip bins to all areas of Caboolture including Bellmere, Moodlu, Elimbar, Deception Bay, Beachmere and Burpengary. We can also get skip bins to you in Rocksberg, Toorbul, Morayfield, Moorina, Narangba, Banksia Beach, Bellara, Bongaree, Bribie Island and Welsby. The Caboolture skip bins delivery area is located north of our Brisbane skip bins delivery area where Bins Skips' also delivers a range of skip bin services. We provide a great range of skip bins around Brisbane, Ipswitch and Moreton Bay giving you the best choice when size matters most.
Caboolture Skip Bins Morayfield Deception Bay Narangba Burpengary Bongaree