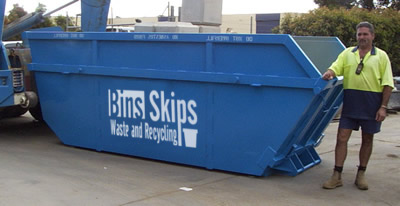 Skip Bins Auburn for delivery to Lidcombe, Berala & Wentworth Point
Whatever skip bin service you need in Auburn for rubbish removal, you can book it online with a local supplier through our website. We have created a database of Auburn's top skip bin hire companies and their pricing, this eans you know that searching our site for skip bins in Auburn will give you an accurate reflection of the marketplace.
Auburn's skip bin hire companies are rated based on your reviews allowing you to see that the services you can book on our site are reputable. We also have other skips in the Sydney metro area including skip bins for Parramatta and Penrith. Search for a skip bin in Auburn on our website and find the best bin for your needs.
Whatever your skip bin hire requirements we are here to help you with a range of waste management services offered in the Auburn area. We can not guarantee the lowest prices, just very competitive rates for skip bin hire Auburn. Wherever possible waste is sorted and sent to recycling centres.
Frequent Question about Skip Hire in Auburn
What sorts of wastes can go in a skip bin?
Skip bins are great for rubbish removal services as they can be used for all waste types as long as the rubbish does not contain hazardous materials.
Light general waste skips bins can be used for the waste removal of residential and commercial waste containing paper, cardboard, timber, furniture, household and business junk like electrical goods, white goods
General Heavy waste skip bins can contain both general light waste, green waste and other heavier materials like brick rubbish, soil, concrete, tiles
Green Waste Skip Bins are good for cleaning up after a weekends gardening activities. Green waste can contain, plant and grass clippings, tree trimmings
100% concrete for recycling
Recycle Masonry for the disposal of bricks and ceramic tiles and other ceramic materials
Clean-fill for soil (or what is known as Virgin Excavate Natural Materials that is free from man-made materials like ceramics or concrete.
Hard-fill is a heavy waste that can include inert heavy waste like soil, bricks, concrete and rock.
For more information call our our friendly professional team and we will help you what different types of waste you have and what is the best way to dispose of it.
Is it possible to deliver skip bins same day?
Our primary aim is to provide a top quality customer service. This objective means that we like to offer a responsive and reliable service across our extensive range of bin sizes. To this end we do provide same day delivery in the Auburn area as long as we get your order by 9:30 am in the morning.
Are free quote available for skip bin rubbish removal services?
Yes we can provide a free quote and and the full details about our competitive prices right here on this page (or via a phone call to our friendly team). The easy way to get a quote at any time is to complete the details in the "Get Prices Instantly" panel at the top right of the page. Don't worry if you are unsure about bin sizes or waste types as there are tools to help you work that out.
When you search for your short-list of rubbish removal skip bins we will provide not only details od the skip bins but also reviews from previous customers, many of whom liked our great service delivered by locally owned businesses.
What skip bin sizes do you have available?
Our waste management services are offered in an extensive range of skip bin types and sizes. Waste bin size range from 2 cubic meters to 20 cubic meters. We have bins with doors and drop down ramps, rectangular hook bins, and Hiab carne delivered skip bins for thos hard to reach places. Bin size and type will not be a problem and you will be spoiled for choice
If you want a skip bin today give us a phone call for same day delivery or book here online.