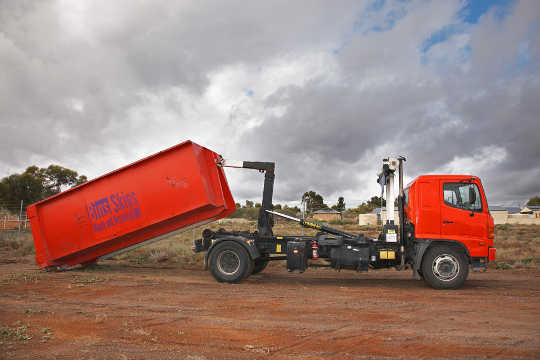 With a massive range of skip bins and expert staff to help you get the right size and shape we are the ultimate in skip hire for Frankston. Getting a bin onsite at the right time in the right place for the right price is not always easy and that's why we give you more choice so you can get your project finished easily and safely. Our bins can be filled with a variety of waste materials and rubbish generated in the course of your renovation, demolition, building project, clean up or any other job. We can handle general waste, green waste, cleanfill, masonry and concrete with ease so call today on (03) 8370 6253 to find out more.
Frankston Skip Bin Volumes
Skip bins can vary greatly in size, shape and features which is why it is important to identify what your requirements are prior to ordering. For instance you may only need a small skip of say 2 cubic meters but these bins do not have ramps on them, however if you hired a 3 cubic meter skip bin then you could have a ramp on your bin for easy loading. This can be especially important when dealing with materials like soil, masonry or sand as shoveling the material over the side will be time consuming labor.
Our skip bins for Frankston include the following sizes:
2m3 — 1.5W x 1.8D x 0.95H — no doors
3m3 — 1.5W x 2.4D x 1.0H — has doors
4m3 — 1.5W x 3.2D x 1.0H — has doors
6m3 — 1.5W x 3.6D x 1.3H — has doors
8m3 — 1.5W x 3.6D x 1.6H — has doors
10m3 — 1.7W x 4.8D x 1.6H — has barn doors
12m3 — 1.7W x 4.8D x 1.9H — has barn doors
21m3 — 1.6W x 6.0D x 2.2H — has doors
Call today and order your next skip bin from Bins Skips Waste and Recycling.
Skip bin permits in Frankston
If you cannot have our skip bin placed on your property and there is room on the nature strip to place the skip then you will require a permit from the local council of Frankston. We provide these permits for a small fee which you can see when you perform a search using the 'Get Prices Instantly' to get a free quote.