Skip Bin Hire Baulkham Hills for Castle Hills, Kellyville & Carlingford
Bins Skips Waste and Recycling Sydney
N
Nihad Moshi
Nihad Moshi
Very good
G
Very happy
Gary Grills
Excellent
M
Collett West Pennant Hills
Mike Collett
Excellent
C
great customer service
Colin Besley
Phone was answered promptly, and options explained to suit my needs. Highly recommended.
F
Great service
Funda Pavicevic
When I called to hire a skip I wasn't sure what size the gentleman on the phone was very helpful he explained the different options to me. It was a very simple overall process will definitely use this service again.
D
excellent service
Denis Mcdonald
Rang and required same day service. The bin was delivered within a couple of hours. Couldn't want any better service. Would definitely use again and recommend. Thankyou
D
Fast and Easy way to arrange a skip
David Hunter
Online ordering was easy, bin was delivered and picked up on the exact dates requested, very happy with the level of service
S
Bin supply
Stuart Anderson
Very helpful and friendly service. Right price and efficient organisation. Will definitely use again. Thank you.
D
Great Level of Service
David Hunter
Fast and efficent level of service, bin turned up after a few hours of placing the order and to arrange pick up, it was as simple as clicking a button.
J
Review of bins
Josephine Simeone
Hi! I wasnt there when the bin was delivered however my finance commented on how nothing was a drama, it was dropped off and the driver was polite and friendly. The driver commented on another bin that was there of a different company. He asked the price and we told him. He said that he could have done better on price if we wanted two bins. He was so very helpful and friendly! I certainly wont be using that other company ever again as their service was terrible compared to yours! The young girl on the phone was a darling. She was so very helpful and efficient. She sounded very young so did well for her age. I was really impressed with the help we received and appreciate you doing the job for us so quickly. I will definately recommend your company and use you guys in future should we ever buy our own house after selling this one. Thanks again. Many thanks
J
Promp drop off and pick up, placed where I needed it
Jayne Birrell
Good job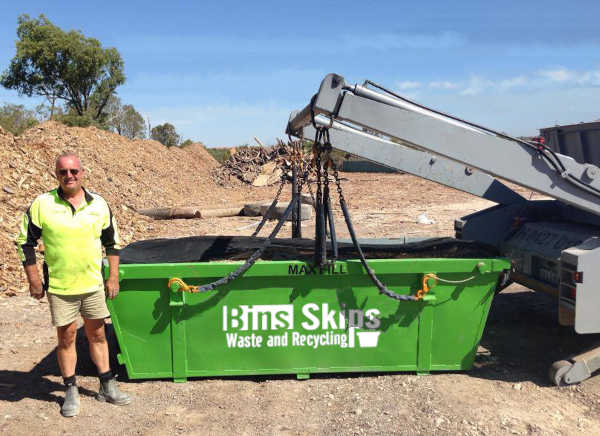 Skip Bin Hire for Greater Western Sydney
Skip bins in Baulkham Hills may be hired online through our website where we offer you the greatest choice of skip hire in Baulkham Hills, great service, hassle free booking and even the ability to get a free quote (or two). These services are provided by partner service providers and because we focus on positive consumer feedback, you know our partners in Baulkham Hills providing skip bin hire services are reputable. No matter if you need a skip for a garage clean out or a renovation, Bins Skips Waste and Recycling (Bins Skips') is the place to find your skip bin in Baulkham Hills. To book and pay for hiring a skip bin on our site takes just 4 easy steps. So when you need a skip, Bins Skips' is your one stop shop for all your skip hiring and skip bin needs in Baulkham Hills.
The Hills area is considered part of the greater Sydney area and is the base of operations for a selection of Sydney's skip bin providers. Skip hire providers in The Hills often service the adjoining areas of Blacktown, Parramatta, Hornsby and Ku-ring-gai.
Providers of skip bins based in The Hills generally deliver to Carlingford, West Pennant Hills, Castle Hill, Kellyville, Rouse Hill, Bella Vista, Beaumont Hills, Winston Hills and Kellyville Ridge. Some of the skip bin hire companies will also travel to Annangrove, Glenhaven, Kenthurst, Glenorie, Forest Glen and Canolands. With many Sydney skip bin hire companies delivering to this area why not search Bins Skips' for a Quote and find your next skip bin in Sydney the easy way.
Frequent Questions about Baulkham Hills Skip Bins in the Hills District
What Waste types can be placed in the Skip Bins Baulkham Hills?
We have skip bins for all types of waste in the hills district. You can put household rubbish from a spring clean, builders waste from your building site, green waste, concrete, bricks, clean-fill (soil and dirt), commercial waste from offices, warehouses and shops, plus more. To make it easier to select the correct bin was have categorised the skip bins by waste type as follows:
Light General Waste skip bins for household waste, office rubbish
Heavy General Waste skip bins are mixed waste bins that are going to contained heavier wastes like bricks, concrete, soil and dirt plus other general light waste
Green Waste skip bins for garden waste including grass clippings, tree trimmings
Asbestos skip bins for sheets and corrugated asbestos
Brick and Concrete Skip Bins
100% Concrete skip bins for concrete structures, blocks, tiles and pavers
100% Masonry skip bins for bricks, pavers, tiles and other clay products
Clean-fill skip bins for virgin excavate natural materials like soil, dirt & clay
What Bin Sizes are available and how do I pick on the right bin size?
We have lots and lots of different sizes and shapes of bin to suit every job you could possible have. We have mini skips, Marrell Skip Bins and Hook Bins for your rubbish removal and waste disposal needs. We provide a friendly service to help you work out what would be the right bin size and style of bin, in case you need a door or ramp to make the bin easier to load if you have heavy or bulky goods to dispose of. If you have a warehouse to empty then we can help with a 30.0 cubic metre hook Bin for Light General Waste in Baulkham Hills 2153.
To estimate how much waste you have is most easily accumplished by thinking about it in terms of a volume you are familar with like wheelie bins or a standard 6 by 4 box trailer. A box trailer level loaded is about a cubic metre so if you could fill 10 box trailers then you should think about getting a 10 Cubic metre skip bin or hook bin.
What Price should I expect to pay for a Skip Bins Baulkham Hills?
We aim to provide a competitive price for skip bins in Baulkham Hills even though the New South Wales has very high waste levies on the disposal of waste. The waste levies are charge on the basis opf the weright of waste being disposed of in the skip bin. This is why very often the price of heavy waste bins is more expensive than light waste bins.
Are Skip Bin Permits needed in Baulkham Hills?
Skips placed in private property in The Hills Shire Council's area do not require a permit, however bins placed on council property such as the road, footpath or nature strip require a permit. The Skip Bin permit should be obtained prior to the placement of the skip bin. Suppliers must lodge a deposit or bond with the council and an application fee must also be lodged with The Hills Shire Council for an application to be considered. The council must also be indemnified by the supplier and be noted as an interested party on the suppliers Public Liability Insurance.