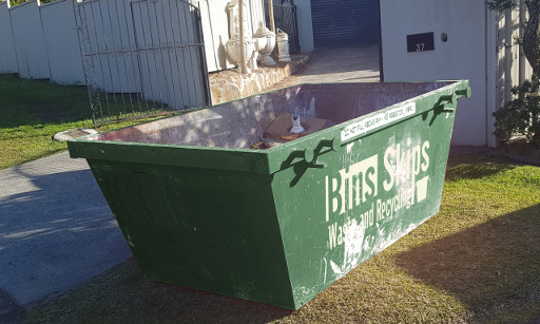 Skip Bins Fairfield Are Easily Found and Booked
Hiring skip bins in Fairfield is as easy as 1,2,3 using Bins Skips Waste and Recycling's (Bins Skips') Website where you can find a quote and book your Fairfield skip bins online. We have partnered with Fairfield's local skip bin companies to allow our customers the convenience of booking online with playing phone tag with suppliers. Bins Skips' is focused on receiving positive customer feedback so you know that our partners delivering skip bins to Fairfield are reputable. So whether you need skips for a renovation, garage clean out or your moving house Bins Skips' is the place to find your next skip bin in Fairfield. Its so easy to book skip hire in Fairfield just complete the 4 easy steps and your done. Why not find your next skip now by clicking the search button.
Fairfield Skip Hire Suburbs Serviced
Fairfield is situated just 35 minutes from the Sydney CBD and less than 10 minutes from Parramatta. Fairfield is part of the greater Sydney area in which Bins Skips has partnered with a number of local suppliers to deliver skip bins. Skip hire in Fairfield is available in all the major, most populous suburbs including:
Cabramatta, (postcode 2166
Fairfield, 2165
Bossley Park, 2176
Smithfield, 2164
Canley Heights, 2166
Canley Vale, 2166

Bonnyrigg, 2177
Edensor Park, 2176
Wetherill Park, 2164
St Johns Park, 2176
Villawood, 2163
Wakely, 2176
Many of our Sydney skip bins suppliers would like the opportunity to deliver you a skip bin, why not book it online today.
Choice of Fairfield Skip Bins - All shapes and Sizes
Residents and businesses in Fairfield are spoilt for choice when it comes to the shapes and sizes for skip bins available.
Council Regulations for Fairfield Skip Bin Hire Permits
If it is required that a skip bin be placed on the roadway or footpath in Fairfield City Council's area then an application is required to seek the approval of the Council prior to placing the skip bin on Fairfield City Council property. As is the norm in the Sydney area Fairfield City Council requires proof of a suppliers Public Liability insurance covering $10 million at minimum. A location sketch and damage report are required prior to the skip bin's placement as any damage to the roadway or footpath is deemed the applicants responsibility to have rectified. Additionally a nominal fee must be paid to council. The council also advises that permission from the Sydney Local Area Command of the Police is required when the skip is to be placed on the footpath or roadway.