Skip Bin Hire Western Sydney
Bins Skips Waste and Recycling Blacktown
J
Would recommend anytime
James Desphy
Right sized bins for your budget, delivered & picked up on time1
K
5M3 Bin 15 Richardson St Fairfield
Kevin Jenkins
5 Stars, great service especially coming up to the Easter Weekend
R
4 cubic metre bin
Ros Smith
The bin arrived on time and left on time.
The bin was clean
Ever so grateful that I was able to keep the bin a few days longer. Thank you for all your help.
C
Excellent Service, fantastic price
Claudia Guajardo
Organising the bin was very easy, they gave me the best price. I had rung around a few places, however, Bins Skips was by far the best one in terms of service and price.
H
Excellent service
Helen Mottee
Professional service from start to finish! Highly recommend!
M
Highly recommend - Skip Bin Hire Seven Hills
Michael Circosta
Very easy to organise highly recommend
B
Skips
Brian Reid
As expected. Fair price.
J
Skip bin
Jordan Zarka
Was perfect , delivery was on schedule & pick up was great timing . Service was also great . Will be using skip bins again .
J
Quick and efficient service
John Majarich
All good… though expensive to get rid of waste nowadays
D
Divaker's Review
Divaker Shivashankar
The bin was delivered and picked up as planned

Will give a 4 star rating
D
Divaker's Review
Divaker Shivashankar
The bin was delivered and picked up as planned

Will give a 4 star rating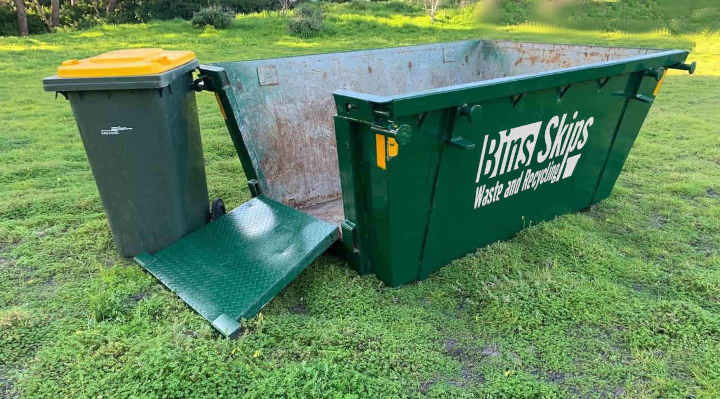 Best Skip Hire in Western Sydney
Need a skip bin in western Sydney for rubbish removal? Look no further as you've found the most convenient way to hire your skip bins. We know that finding the right skip bin hire company is not straight forward and can be frustrating trying to workout not just who services your area but who can do it at the most affordable price. Good news is we've done the leg work for you and found the best skip bins western Sydney has to offer. You don't have to wait for us to be in the office to book and pay for your bin our booking system is available to you 24/7 so you can book your service in and rest assured it will arrive on the day you have booked it in for.
Find competitive prices for skip bin hire Western Sydney
Here at Bins Skips Waste and Recycling it is realy easy to get a quick quote. All you have to do is provide 3 peices of information and click a button. And then hey presto you will have an instant quote, or even an instant free quote.
Enter the delivery suburb name into the Get Prices instantly panel. Select the waste type and the bin size and click the Get Prices button. This will give you a shortlist of skip bin services.
Click on the bin photo or diagram and get more information about the service. From here you can email yourself or someone else a quote. It is also possible to book online to get your next skip bin.
Frequently Asked Questions about Skip Hire Western Sydney
How much does it cost to hire a skip bin in Western Sydney?
Due to the high cost of waste disposal in Sydney it can be relatively expensive to get rid of rubbish from western Sydney suburbs. Bins Skips Waste and Recycling provide unlimited free quotes here at our website, so you can find out the price of any size of skip bins for most all tyes of waste. Enjoy our exceptional service by
How long can I hire a skip for in Western Sydney?
In western Sydney you can hire skip bins as long as you like as long as you are prepared to pay weekly rental beyond the initial hire period included in the price of the bin.
What does a skip bin look like in Western Sydney?
Skip bins look similar although there is a very broad range of skip bin services available. The bins are large metal containers that taper to the bottom of the bin from the top. The smallest skip bin sizes is the 2 cubic meter bin. These bins rarely have doors and need to be loaded over the top of the bin. Load carefully to fully utilise the volume of the bin.
What sort of waste types can be placed in Western Sydney Skip Bins?
Skip bins can be used for most different types of non-hazardous wastes. When a bin is to be used for mixed wastes you will want a general waste bin. So skip bins can be used for all sorts of wastes like:
Green Waste

Bricks and concrete for recycling

Landscaping waste (soil and other materials)

Commercial waste